You are investing in custom signage for your company, so you deserve every opportunity to get exactly what you're paying for. When you order a sign blindly online without having any way to check your design prior to printing, you could lose the investment in a flash. One way to make sure this doesn't happen is by choosing a local Minnesota sign company. By working with our team, you get to quality check your signs before the final production along with many other benefits of working with a local Minnesota sign company.
Local Experience in Signs
By working with one of the local sign companies in Minneapolis, you gain more than just a peek at the proof before printing. You also get access to a team of experts who have managed sign design and installation in this area for years. We understand the local ordinances, right along with any neighborhood or community codes and stipulations that outsiders and online sign companies simply have no clue about.
As such, we are ready to obtain the right city permits to protect your business from regulatory issues and fines before your signs are installed. We're also on-hand to visit your site location to determine the best dimensions and business sign placement. This saves you time and ensures compliance with your signage.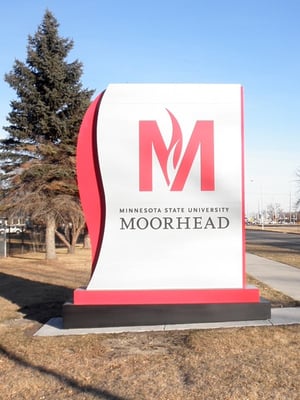 Personalized Sign Service
When you work with one of our local sign experts, we provide your company with personalized attention. As a Minnesota sign company that does everything in-house, we are able to do something that sign companies online cannot. We meet you in person and get to know you by name.
We also walk you through everything that you need to know in order to meet your sign goals, timeframe, and budget. Our sign designers work directly with you throughout the entire process. This way, you can rest assured that the finished signage will be to your satisfaction.
Fast Turnaround
Speaking of timelines, your time frame for completion is at the top of our agenda. Whether you have a set deadline, a product launch, or a reopening date, we have the resources to work around your time constraints successfully. More importantly, by working with local sign manufacturers, you will not have to pay premium prices in order to stay within your timeline.
Optimal Customer Service
When you have an issue, would you prefer to call a person or send an email and wait a week? Chances are you need someone to help you now, not in seven days. Here at Spectrum, our sign designers are members of your community.
We work with you to create a finished product that you and our community will be proud to look at day after day. We feel a keen sense of responsibility to support you and your local business through smarter sign solutions. As a result, every time you work with our team to create or update your company signs, you will experience this true passion.
Value Ideas and Input
One concern that customers often have is losing their message in their signage. You know your marketing message the best and have the greatest understanding of your goals for your business. However, translating this to a sign in a set size and number of letters can be difficult.
We take our years of industry experience with sign design and put it to work for you. We combine this with an in-depth understanding of the local marketing and signage already in place.
This allows our local sign designers to create a cohesive message on-point with your business that also stands out in a crowd. Plus, we love to hear ideas from our customers. If you have an idea or vision for a sign, our local designers would love to turn this into a reality.
Choose a Local Sign Company in Minneapolis
Whether you already have signs in place that need an upgrade or you're starting from scratch, Spectrum Sign Systems is ready to assist you. Our team provides everything from the initial site survey to the maintenance of your sign.
Contact Spectrum Sign Systems today to request a consultation with our design team. Discover how we can transform your external and internal signage with commercial solutions from our local sign company in Minneapolis/St. Paul.