If you're investing in custom signage, you need to make sure that your manufacturer can provide quality work within a reasonable timeframe and budget. In order to determine if you can trust your custom sign manufacturer, do some research and come to your first meeting with questions in hand. Here are just a few to get you started:
How long have you been in business?
What types of signage have you installed in the past?
Do you have a portfolio of your recent installations?
These questions are specific enough to generate a good discussion and give you a level of comfort that they can effectively design signs for your business. Now, let's take a look at some of the industry-specific traits you'll want your sign manufacturer to have down pat.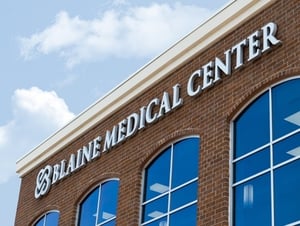 How To Know if You Can Trust Your Sign Manufacturer
One of the best ways to evaluate your sign manufacturer is by the quality of the products and services they offer. As you browse their product catalog or website, look for signs that exhibit the following qualities:
Aesthetic Value: Whether you're located in a corporate office park, shopping mall, or stands alone, look for signs that pop and add a lasting impression.
Materials: Your sign manufacturer should offer a wide variety of materials and finishes.
Built to Last: All signage, particularly signs exposed to seasonal wind and weather should be made of non-corrosive materials or incorporate an aluminum exterior. Exposed steel or sheet metal corrodes and rusts quickly. An exception to this rule is that some Corten products utilize polyurethane paints along with clear coats of UV protection.
Warranty: Companies such as Spectrum Sign Systems stand behind their products with a 5-year warranty.
Bright, Energy-Efficient Illumination: Top sign manufacturers use LED Illumination to provide safe, bright, and efficient lighting rated for 100,000 hours of operation.
Strength: The strength and performance of signage under severe wind and weather depends on the load capacity of the materials and the way the sign is attached to your building or other structure.
At the end of the day, you want a manufacturer who thinks about your needs in a methodical, logical manner. From start to finish, a signage expert does the heavy lifting to help you determine what you need and then makes it happen.
Consulting
The ideal sign manufacturer for your business acts as a consultant and helps you figure out the best types of signs to use and where to place them.
Design
You need someone who can be a partner and share their knowledge with you. An exceptional sign consultant leads you in a discussion about brand guidelines, colors, local ordinances pertaining to signage and the most effective sign types for what you want to accomplish.
Site Survey
In order to determine the type of signs that work with your business, a signage manufacturer has to visit your retail site often. One of the first visits should include a site survey. Here are just a few of the considerations that go into a winning signage strategy:
Site lines (Are there obstacles that can be removed or relocated?)
Building construction that impacts how you can mount your signage
Best method of attachment for the greatest impact and in accordance with local ordinances
What electrical resources are available
Utilities around the building that would impede visibility or present a safety issue
Taking all these factors into consideration, your signage expert helps you ensure a safe, successful installation plan that meets your needs without violating any building codes.
Maintenance and Support
Choose a sign manufacturer that can work within your budget constraints and who can deliver the product within your timeframe. Ask your representative what maintenance, repair, and other support services they offer as part of the original installation. Make sure to ask what maintenance will be required over the useful life of the sign and get an idea of what you might spend every year to keep your signs looking great.
Customer Reviews and Reputation
As a final check, look at what current customers are saying about your signage manufacturer. You can find this information by doing quick searches on sites such as Yelp!, social media, Google reviews, and the Better Business Bureau. You can also check out the signage manufacturer's website for customer reviews and testimonials.
Choosing the right signage manufacturer is critical to the growth and success of your business. Signs lead prospective customers to your storefronts, help them locate the products and services they need quickly and help ensure that you are in compliance with required signage for ADA and other regulations. They are also an important part of your brand marketing, so take your time and make the right decisions the first time around. Contact Spectrum today for a consultation or to schedule a sight survey for your business.