Why You Should Shop Local for Custom Business Sign Design
Topics: Sign Information
Buying local has become front-of-mind for consumers. People like to keep their money in the local economy and support small businesses. But what if you're looking for a new business sign? What benefit is it for you to work with a local sign contractor?
Survey
When working with a local sign contractor they have the ability to survey your location. Why is this important? You want the company you're working with to have a clear understanding of building sightlines, existing signs, electrical access, and any other potential obstacles that could affect a project. Doing this all on the front end will ensure a smoother project.
Understand The Climate
While climate may not seem like an important detail, it certainly can have an affect on your signage. Wherever you're located, your local sign experts will know the climate from experience, not pictures. For example, in Minnesota, there are quite a few factors that should be taken into consideration when starting a business sign design. Any copy on a monument sign should be a minimum of 24" above the ground, because Minnesota tends to get a decent amount of snow, which can sometimes sit in the 18" - 24" range. So, any copy below that point could become unreadable throughout the winter. They'll also know firsthand which materials will withstand your climate—from extreme heat, cold, water, wind and more—and advise you when designing your sign.
City Codes
A local sign contractor works with their client's city for every exterior sign job. A local business will have have built relationships with many of the city offices. Those relationships allow your sign contractor to have a clear understanding of city codes and any recent changes. They will work with the city on your behalf to ensure your sign is maximized in size and code compliance.
Know Your Community
A local sign contractor will take pride in boosting your business, because it's in their community. They'll create a sign they can look at and be proud of (because they'll probably pass by it!) Not only that, but they'll probably already familiar with your business.. They won't need to take the time to understand your vision or what you do—they can get to work right away with confidence.
Maintenance and Service
When choosing a sign contractor, it's important to think about what happens after the sign is built. Every sign—no matter how well made—will need maintenance at some point. Because it's withstanding the elements 24/7, you need a sign contractor that will be readily available. So if disaster strikes, they won't send someone in the next few weeks—they'll send someone in the next 24 hours.
Working with a local sign contractor gives you the comfort in knowing that they understand the environment in which you are located and what the city code is to maximize your visibility. It also helps knowing that there is another business rooting for your success along the way!

Looking for an exterior business sign in the Twin Cities metro area? Give us a call today!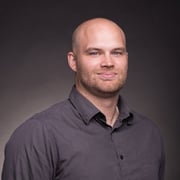 "http://cdn2.hubspot.net/hubfs/545157/assets/images/patrick-woller-spectrum-signs-square.jpg"
Patrick Woller
Patrick is a Graphic Designer at Spectrum Signs, a custom business sign maker in Blaine, MN. After a call from his college placement office, Patrick joined the Spectrum Signs team in 2010. Patrick finds enjoyment in the unique challenges his job gives him through the use of out of the ordinary materials. When Patrick isn't designing signs, he enjoys spending time with his wife and daughter, hiking with his dog Willis, and getting out on the golf course.