Many students have finished their exams and are enjoying the end of the year celebrations. For facilities and maintenance managers at universities and schools in the Gopher State, it's time to take advantage of an empty campus to maintain, replace, or install the necessary custom school signage.
Importance of Custom School Sign Maintenance
If you've ever driven by an abandoned facility, one of the first things you notice is the worn paint and bad condition of the signs. If there are areas on campus where a letter or two has fallen away from a sign, it can have a very negative impact on new students and their parents attending tours over the summer. In some cases, vandalized or damaged signs pose a safety issue, not to mention the confusion it causes when only half a sign is legible.
Custom school signage is an investment in your institution that provides an immediate return on investment if properly cared for. Not to mention, regular maintenance extends the life of your signs and eventually pays for itself with savings in replacement costs.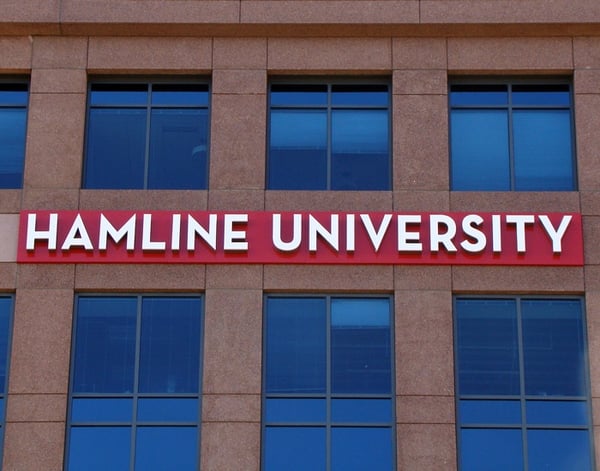 Campus Sign Maintenance to Consider
Wind, rain, and debris all take their toll on the signs around your college, university, or school. Annual maintenance from experienced sign manufacturers helps you restore the appearance of your school's logo and branding signs, as well as the wayfinding, safety, and other signage throughout your campus. Here are just some of the services that should be included in your sign maintenance schedule:
Keep It Clean
This may be a step your maintenance staff can perform on their own, depending on the location and material of various signs. For instance, signage made from vinyl doesn't last as long as hardier signs made of metal, high-quality plastics, and composite materials. Signs located outdoors begin to peel, fade, or crack. For these types of signs, it's best to contact a Minnesota sign company, such as Spectrum, that offers expert maintenance services.
Before you send a crew around campus to swab down signs, ask your signage provider the best way to clean and maintain your campus signs. Be sure to include the type of materials, whether it's located inside or outside and other pertinent details to get the clearest instructions to preserve your signs for years to come.
Keep It Operational
If you have LED signage identifying building names or your school logo, it's important to have it repaired immediately. Spotty illumination in your LED school sign gives off a bad impression and makes it harder for visitors to find their way around after dark.
At Spectrum, we keep our truck stocked with everything needed to fix most signs. So, if you need us, our experienced technicians come prepared to finish the job on-site. We take the necessary safety precautions to ensure the well-being of anyone left on campus. Also, our comprehensive maintenance services keep your signs functioning properly and looking great. Call us for:
Electrical repair or service
Sign cleaning and maintenance
LED renovation
Fresh paint and new or replacement facing where needed
Keep It Fresh
Regular inspections by experienced sign manufacturers give you the peace of mind that your campus signage is up-to-date and that your school name and other branding sends out the right impression.
Simply call your Minnesota sign company with changes to office hours, parking enforcement, or any other information that needs to be updated.
Keep It Safe
Peeling posts or rusted hardware pose a safety risk on crowded campuses with lots of foot traffic. Be sure to replace these in a timely manner to avoid injuries and liability issues.
Preventative Campus Sign Maintenance
Avoid scheduling maintenance services in a rush once a problem occurs. This can be expensive and lead to poor results without proper planning. If you choose to be proactive, preventative maintenance can save a lot of time, money, and trouble. Schedule an inspection to keep signs on-premise in optimal condition. Spectrum technicians can help you discover defects before they present a safety hazard or threaten the promotion of your brand.
Speak with a Spectrum expert today to schedule a maintenance inspection of your facility's signage. We look forward to getting your campus signs ready for the back-to-school rush, including:
Refinishing signs on-site with long-lasting polyurethane finishes
Updating tenant faces or graphics
Replacing faces showing signs of yellowing
Relamping or repairing an existing lighting system
Installing energy-efficient LED retrofits