College recruitment and enrollment is a competitive market. Students nearing the end of their high school careers have gone to college fairs, done hours of research, and are now thinking of where they want to apply. One of the biggest factors for a student looking at where they should apply is the college campus itself. Does it feel welcoming? Do they see themselves enjoying school activities and events there? Are they going to feel proud being a part of this community for the next few years? A lot is going through a potential recruitment's head as they enter your campus. You can increase the chances that they will take the next step and apply with subtle—yet effective— ways by simply utilizing your college campus signs.
Show Your Colors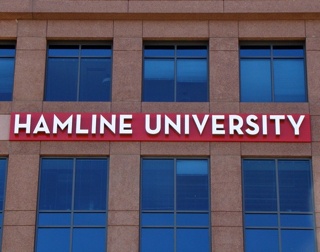 It sound obvious, but you may be surprised at how often a college campus sign doesn't reflect the school's colors. They opt for a neutral color such as black or gray when their colors are more vibrant, like red or purple. We're not saying that if your school colors are purple and gold you should have an entirely purple sign, but we highly recommend incorporating the colors. Whether you have the school's logo or mascot or the background color is representing the college, it creates a feeling of community and familiarity. This can be done with monument signs, interior signs, and even your wayfinding signs, which brings us to our next point.
Helpful Wayfinding Signs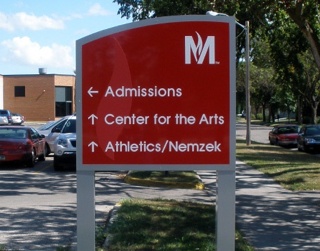 Remember the first day of high school? Well college is no different for freshmen. The first few weeks is getting to know the other students, their teachers, and how everything works in this new environment. You can make it easier for them with helpful wayfinding signs. When a visiting student comes to your campus, they're going to be paying attention to how easy it is for them to get around. They'll need to know which hall their classes are in, where to have dinner, where the library is, and even where parking is for students. Concise and easy to read directions for your college campus wayfinding signs is a must to make visiting students feel welcomed and at ease because starting at a new school is stressful enough!
LED Message Displays
Prospective students are going to want to know about events that get them acclimated with the school and other students with similar interests. That's where an LED message board comes into play. Have the date and time of the upcoming homecoming game or auditions for the musical promoted. Use it to congratulate the track team at going to Nationals. Advertising school events and activities not only helps students looking to apply know that they'll always be updated, but it also lets them know were they to join an event or be a part of an activity at the school, they will be recognized.
College campus signs can do a lot when it comes to increasing recruitment for your school. Always keep prospective students in mind and show them what your school can offer them through your signage. You'll be surprised at how much the signs around your campus can affect a student's decision to enroll!