Each industry has different goals and objectives. So why shouldn't your sign reflect that? A health care system's signage would be different than a retail store's signage, because their visitors have different intentions when seeking each location.
When choosing signage for your business, be cognizant of your industry. Here's some of the industries we serve and why we recommend specific types of signage for different industries:
Office Buildings
One office building is hard to distinguish from the rest. Make your place of work pop with a custom sign.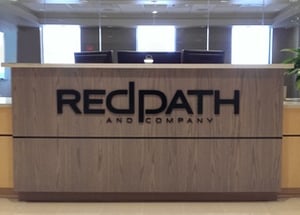 Project your brand to the public by getting a customized exterior business sign. Wall mount cabinets and plaques are great for tall buildings that house one company, usually a corporation. These are easily seen from a highway or street and function for advertising or wayfinding purposes.
For those office buildings that are multi-tenant, a monument sign with the different company names can be beneficial for wayfinding.
Brand the inside of your office or help visitors find their way in a multi-tenant building with an interior logo display.
Retail Stores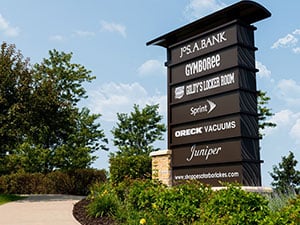 For a retail store, a sign can be a great advertising piece that draws impulse buyers in and tells them a little bit about your company. According to a survey by FedEx, 68% of those surveyed said they entered a store and purchased something because a sign caught their eye.
Wall mount cabinets and plaques are popular for retail stores because they can be affixed to the outside of your business to draw customers in. Also LED face or halo illuminated letters can be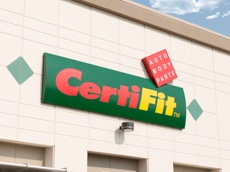 beneficial for customers, so when the sun goes down they can still find your business.
For large retail areas, monument signs displaying the names of all of the businesses is important for wayfinding purposes, in case the wall mounted signs aren't visible from the streets.
According to a study on some of the top retailers by the Sign Research Foundation, attributes such as legibility, quality, appropriate scaling, uniqueness and more, affects the ROI of a retail store's signage. When consulting with a sign contractor, they'll have ideas for getting the most out of your retail sign.
Industrial and Commercial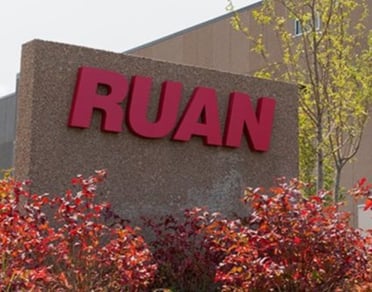 Industrial and Commercial see visitors and deliveries to their businesses everyday. Therefore, signs that direct and landmark are beneficial. A mixture of freestanding and on-building signage can make your business hard to miss.
Because industrial and commercial businesses are accepting such different types of visitors to their buildings, wayfinding signs will distinguish where the different entrances are for visitors or deliveries.
Industrial and commercial workplaces have unique needs in that they have more safety procedures than other industries. Signage that warns against hazards, or highlights safety procedures can help decrease the risk of workplace injuries. Your sign contractor will design your signs in compliance with OSHA's sign regulations, and will create a safer, more efficient workplace.
Schools and Universities
Schools and universities benefit from signage across their campuses.
A pylon or monument sign can be used for branding and landmarking, so your visitors can find the college campus. Customizing your sign to showcase your school colors and even your mascot, can guide your visitors to the campus without issue.
A wayfinding sign is a great option for schools and universities to direct your visitors around the campus and to different buildings
or offices. Not having multiple wayfinding signs throughout your campus could result in frustration and a bad impression of your school.
Schools have a number of clubs, organizations and events. A custom LED electronic message sign can display a dynamic message, like upcoming school events, the weather, a congratulatory message to a sports' team and more, to keep the community and school informed.
Financial
When thinking of branding for a financial institution, the focus should be on trustworthiness. Would you trust a bank that has a misspelled or dilapidated sign with your hard-earned cash? Probably not. That's why the quality of signage on a financial institution matters so much.

A quality, custom-made monument, freestanding, or mounted sign can brand your financial institution as a trustworthy partner and be used for landmarking purposes, as well.
A wayfinding sign can also direct your visitors to your ATM, drive-through and exit, to reduce confusion and get them in and out fast.
Health Care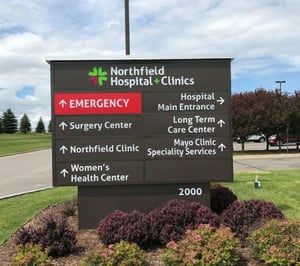 As many visitors to health care systems are in distress and in a hurry, signs are critical in landmarking and wayfinding for a smooth visit.
Visitors to health care systems are already in a stressful situation that's out of their control, so wayfinding signs are key to making sure they find their destination in as little time as possible. Frustration can happen easily, so place wayfinding signs inside and out to direct to different wings and rooms.
According to research by the Sign Research Foundation, healthcare systems have many tactics of ensuring wayfinding is efficient. For example, in addition to signage, UCSF Health includes a wayfinding training module in its employee orientation program and New York Presbyterian/Columbia University Irving Medical Center's Visitor Information Services Department collaborated with Human Resources to market the wayfinding system to department chairs campus-wide.