Save money! Save energy! At this point, most people know about the benefits of switching from incandescent, halogen, or CFL bulbs to the wallet-and-eco-friendly LED option. The next question is: do you retrofit the bulbs or replace your signage? Your sign contractor can help you make the decision, but it's always a good idea to come in with some understanding of what your options are ahead of time.
What is an LED lighting retrofit?
When you're opting to retrofit, you're essentially replacing old, outdated bulbs for LEDs in a sign's light fixtures. Meaning, your signage will remain as-is since you're just replacing the bulbs.
What is an LED lighting replacement?
A replacement can be a bit more involved, since you're replacing the bulbs, fixtures, and possibly the entire sign when doing an LED update. Although it is more time consuming and more expensive, there are added benefits to making the extra effort.
The Pros and Cons to Retrofitting vs. Replacing LEDs
No matter which route you choose to take, there are benefits of each approach. Depending on your preference, business needs, and current predicament, your sign contractor can walk you through a few things to consider.
Up-front Cost
The clear money-saver is going to be retrofitting, because it only involves switching the bulbs. Replacing involves not only swapping out the bulbs, but also the fixtures and possibly the entire sign.
Energy-savings Cost
With both retrofitting and replacing LEDs, the savings in energy will pay for the upgrade over time. According to Energy.gov, LEDs typically use 25–80% less energy than traditional incandescent bulbs—that savings can add up quickly!
Rebates
Many energy companies are offering rebates for retrofitting or replacing you illuminated signage with LEDs. The rebates will help you chip away at the costs for both options, but whichever fixture you plan to upgrade, the rebate will be a little more for retrofitting, according to Xcel Energy.
Installation
It goes without saying that retrofitting LEDs has a shorter installation time.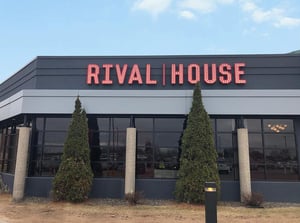 Once you get bulbs to fit the current fixtures, it's plug and play. Although, since the bulbs need to fit into the old light fixtures, you only have a few LED bulb options (more about this below).
For replacing fixtures, the installation process can either be adapted into a new construction project, or it can be as easy as taking the old fixtures off and replacing them with new fixtures. Although it may require some rewiring, which could add time and money to the installation process.
Either option could have a more complicated installation if your sign is in a hard-to-service location. Talk to your sign technician about the specific expectations of your installation process.
Choice
When retrofitting, the LEDs need to fit in and be compatible with the current fixtures, which comes with certain parameters. For example, the older fixtures can use a lower amount of lumens, so they won't be as bright as if you were to buy new fixtures. That means there will be fewer choices for LEDs. But don't worry with the wide variety of LEDs on the market, you'll most likely find the correct bulbs for your sign.
Replacing the fixtures or sign will open up your options for LEDs—in every shape, size, color and wattage. You'll also be able to put dimming features in your signage, as older fixtures didn't have this capability. You can further customize your signage system by connecting your LEDs to your HVAC system, or creating a backup system in case of electricity failure.
Maintenance
No matter which option you choose, both have relatively easy maintenance and longevity. LEDs have well-documented, much longer lifespan than other bulbs (up to 25 times or more). So when comparing maintenance to other bulbs, LEDs win when it comes to both retrofitting and replacing. Just be sure to dust and inspect the bulbs to improve longevity, as clean bulbs will prevent component failure.
Other Considerations
After weighing the pros and cons of either retrofitting or replacing signage with LED bulbs, there are a few other considerations you need to keep in mind.
Condition of Your Current Lighting Fixtures
If your current fixtures are in great shape, retrofitting is probably the best option for you, unless you want to add custom capabilities. If your sign is old and regularly needs maintenance, it may be a better choice to replace the LED fixtures, as the initial costs will outweigh the maintenance costs in the long run.
New Construction
If you're in the middle of a new construction project, it's best to replace the light fixtures, as it's the easiest time to do so and you'll get the most customization options out of new fixtures. Keep in mind that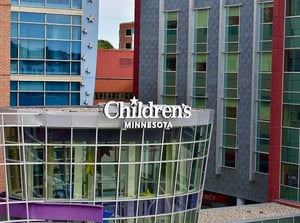 installing new lighting fixtures may require some rewiring, which could add to the time and budget of your project.
Waste
If you're concerned about the environmental impact of your decision, retrofitting creates less waste by reusing old fixtures. But switching to LEDs in general will also reduce your carbon footprint. According to the research company IHS Markit, switching to LEDs reduced carbon dioxide emissions by half a billion tons in 2017.
Regulations
Your city or county regulations may affect what you can and can't do when it comes to LED signage. Check with your sign contractor, as they'll know specifics when it comes to regulations in your area.
Whichever route you choose, whether retrofitting or replacing for LEDs, talk to a sign contractor beforehand. They may bring up a point of view you never thought of, or will have thoughts based on your unique situation.