Business owners often utilize interior and exterior signage for advertising and attracting customers. However, they should be mindful of the rules, regulations, and updates pertaining to signs and that vary from municipality to municipality. This article is designed to give you an overview of what is involved when Spectrum Signs covers the permit process for their clients.
Failing to follow the rules and regulations of your local authorities may result in fines and other consequences. Learn the steps involved your sign manufacturer should take before installing a sign outside your business.
When Do I Need a Sign Permit?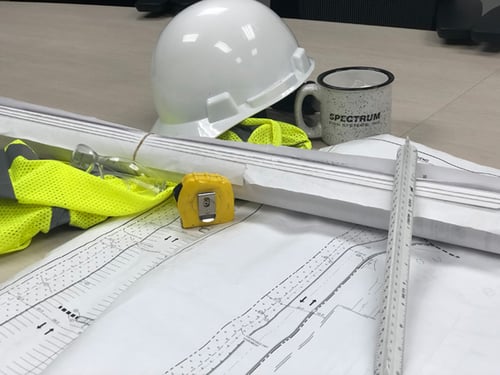 In many cities, business signs require a permit for building and installing new signs along with enlarging or modifying an existing sign. By issuing sign permits, the city can ensure that you meet the standards of public safety and design aesthetics. Some exceptions may include construction signs smaller than 32 square feet, garage sale signs, home security signs, and help wanted signs. However certain types of signs will require additional permits. An illuminated sign will need a permit for electrical signage in addition to a regular sign permit. To find information on permit fees, it is always recommended you check with your local planning and zoning office.
Our team at Spectrum Signs can help you determine if the size, type or placement of your sign violates any city codes. Plus, we double-check with the city just to make sure nothing has changed.
The Steps to Obtain a Sign Permit
If you are a property owner, you have to apply for a zoning review of your external signage plans. Once the work has been approved by the zoning department, it will then go to the permit department.
Here is a checklist of things that you're likely to need to get your permit approved:
A signed application form
2 sets of construction drawings that include the seal of the state engineer or architect
New signs require an occupancy permit
Illuminated signs require a separate permit
Once you get the final approval for the permit—you're all set to install your signage.
Additional Information for Building Signage Permits
In addition to a sign permit, to prepare for installation you may need a plan for the following:
A survey including:
all property lines

sidewalks, streets, and alleys

building footprints

location of proposed and existing signs
Elevation plan for each sign that includes:
location

illumination

height

dimension of sign

dimension of wall
Photo of elevation for sign alternations.
Lighting including the type, size, and location (if applicable).
The sign permit process can seem complicated, that's why our Spectrum Signs team does all of the heavy lifting for you when it comes to the permits for sign installation. Our team is up-to-date on rules and regulations so you'll never have to worry about going back and make costly changes after installation. From the sign permit application to the installation of your business signage, we are here to make the process is as hassle-free as possible.