Business owners occasionally need to think critically about their identity. To stay relevant and reach your target customers, you may need to rebrand to create more opportunities for growth and to remove any obstacles standing between your business and prospective customers. Has your branding grown stale and predictable? Reimagine it with a rebranding strategy that includes your signage.
LED illuminated signs draw more eyes to your rebranding efforts, especially if you include a new logo that appeals to your core customer base. No matter how great a job your marketing team does on the internet and on social media, you still need effective signage for new customers to find you.
LED Illuminated Signs
LED signs add lighting to an existing element. If your current signage isn't illuminated, you are missing out on an opportunity to reach customers around the clock. LED illuminated signs can be lit from the back or front to create a specific effect. So, include illumination in your rebranded signs to enhance the customer experience, facilitate wayfinding and increase traffic to your business or institution.
Whether you aim to attract a new generation or update your look to revive your overall image, LED signs often represent your cu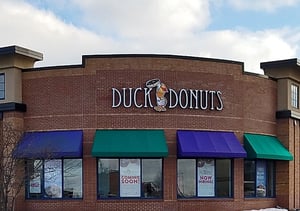 stomers' first experience with your new ethos.
LED Face Illuminated Signs
LED face illuminations create a bold impact on interior and exterior signs. Install your redesigned graphics and lettering on the exterior of the building to let customers know that you have updated your look and merchandising to better meet their needs. LED illuminated signs may have three-dimensional channel letters constructed of aluminum or acrylic or LED lettering.
LED Halo Illuminated Signs
LED halo illuminated signs create a halo effect behind your letters and graphics. Use these LED signs to gain attention during the day as well as during the night. Usually, LED halo illuminated signs are made of aluminum or stainless steel materials.
Choose Cost-Effective LED Signs
The initial price of LED lights cost more than fluorescent or incandescent bulbs. However, you can save money with LED illuminated signs over the years. That's because LEDs last longer than other bulbs — sometimes over 20 years! Also, the active energy use of LEDs is far lower. These efficient signs use a small portion of the energy required to light traditional neon signs. Eventually, the cost savings outweigh the initial cost.
Brighter Lights
LEDs cast brighter light that shows your business name and logo much more clearly than neon or incandescent bulbs. Having a brighter LED illuminated sign maximizes the effect of your lobby and outdoor signs.
Choose From a Range of Colors
Just because most businesses choose white LEDs doesn't mean you have to limit your imagination. White ranges from soft, warm shades to cool, bright tones. Choose from red and purple hues and ask about RGB LEDs that cycle through colors to draw attention to your business.
Immaculate Appearance of LED Signs
Many businesses go with LED illuminated signs to create a crisp, professional look for their rebranding strategy. LED logos are lit from the inside out and there are many customized solutions available to capture the exact aesthetic needed to reflect your brand messaging.
Contact our Spectrum Sign team for guidance on achieving the right interior and exterior signage for your business. Whether you need new LED illuminated signs or a complete suite of signage to direct customers and highlight your new look, we can help!