The visibility of business signs is important for many reasons. The main reason: to attract attention to potential customers. Our team partnered with Sigma to design and fabricate business signs to help increase brand visibility and recognition. From the start, their logo provided an excellent opportunity to create outdoor signage that not only increased brand visibility but also followed all brand guidelines. We were thrilled to work with them on this project and bring their business logo to life.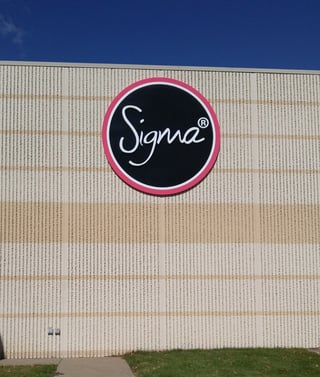 Consider Sign Display Components & Color
When working to increase visibility the first thing to consider is on-building signage. We designed and fabricated a 10 ft. by 10 ft. logo for the wall in order to maximize the visual aspects of the logo. All components of the wall sign are made from reverse channel aluminum, a common outdoor sign material used for increased sign durability. In addition, the logo letters are individually mounted to the background giving it an extra dimension. If the size alone wasn't enough to make it stand out, the colors in the logo design really make it pop. The aluminum backer is painted to match Sigma's brand colors, while the black, white and magenta color scheme provides plenty of contrast for the logo to be visible from a distance.
Consider the Type of Sign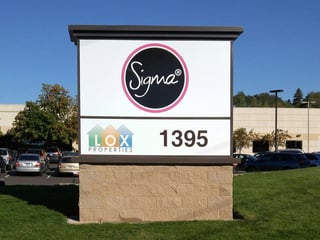 For Sigma, the monument sign and base were designed to complement the building location. A masonry block base was used so that it would match the building and tie it into the environment. The sign cabinet, cap, and accent are all finished dark bronze for added design aesthetics and. the faces of the monument are digitally printed graphics that match the brand colors to provide consistency for all of the signs.
Working alongside our client to ensure all brand guidelines were met while exploring the best options for brand visibility made this project a successful one. If you have any questions about business signs or are looking for a way to increase your visibility, connect with our team of experts, we're here to help!