There really is a difference between the types of materials that can be used for indoor and outdoor business signage. What might work perfectly inside, may not be the best option outside. Think of it like the furniture that you have at your house. Recliners don't belong out on the patio and plastic lawn chairs probably wouldn't work the best in the living room.
Because of temperature and moisture control, there is a wider range of materials that can be used for indoor signage. Exterior signs are out in the Minnesota elements which can range from 100° summer days to -20° winter nights. Throw in some precipitation and wind, and that really limits what materials you can use.
Indoor Business Signage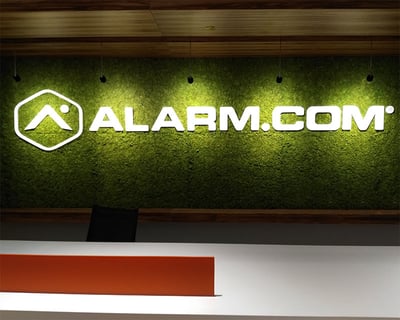 As mentioned before, there is more flexibility in materials that can be used for indoor signage. Wood, acrylic, steel, aluminum, glass and foam are all great options for interior materials. If you think about it, pretty much anything could be used if you have the space and the budget.
Plants are even being used as sign backgrounds. A 'green' or 'living' wall is a wall of plants that provides the backdrop for company logos or any other information the would like displayed. It contrasts the signage in a really unique way with the different shades and textures of green.
Outdoor Business Signage
Exterior signs are pretty limited on the materials that are available. In climates where there isn't fluctuation in temperatures and the drastic changes in season, you can get away with other options. Even with the types of exterior sign materials being fairly limited, with creative design and proper fabrication you can have a sign that is both eye catching and durable.
Aluminum is consistently the most used material in the sign industry. It is durable and does not rust which is ideal for exterior signage. And it's extremely versatile! It can be used for fabricating letter sets, sign cabinets, backers, frames and poles. It can also be used as a pole wrapper for freestanding signs like monuments and pylons. Pole wrappers can be given textured finishes to mimic concrete to stucco, which gives the appearance that it's not aluminum.
Steel is another common material used for exterior signage, but it's usually hidden. We use steel poles, angle and plates for the internal structure of most of our monument and pylon signs. It provides the strength needed to withstand heavy wind loads.
Acrylic and polycarbonate are primarily used for letter faces and the backing in routed aluminum faces. They are translucent materials which allow light to pass through and illuminate at night. Vinyl film can also be applied to the faces to either block out light or to provide color to the faces.
Do you have a sign project in mind and want to get a better feeling use of different materials? We have many different samples, examples and experiences that we are always ready to talk about.