Wayfinding signs are pretty common in museums, malls, hospitals, and universities. You need wayfinding signs where there are lots of corridors and people trying to navigate by foot. So what about banking institutions? The financial industry is often overlooked when it comes to this type of signage, but that doesn't mean wayfinding isn't needed. Learn how to determine if your financial institution has a need for customized wayfinding signage.
Why Use Wayfinding for Financial Industry Signs?
You want to have directional signage ready to assist a person when they arrive at your bank, credit union, or financial institution. Bank wayfinding signs pave the way for an organized flow of foot traffic. These signs also provide key information for your institution. For instance, in case of an emergency, your wayfinding signs should lead visitors to clearly marked exits and the path to safety. Beyond foot traffic, you also need exterior bank signage that maintains a safe flow of car traffic.
In terms of design, you want to make sure your wayfinding signs are ADA compliant, but that they also look smart and present the right image for your financial brand. This is where custom financial signage is well suited for banking institutions.
Exterior Bank Wayfinding Signs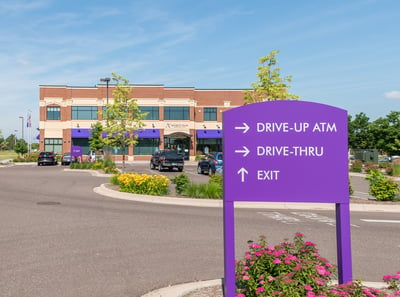 In terms of exterior bank wayfinding signs, there are three types of signs you want to consider:
Directional signage
Parking signs
Property protection signs
A directional sign quite literally points visitors in the right direction while in bank parking lots, at ATMs, and at teller drive-thru windows.
In terms of parking signs specifically, your bank must identify ADA accessible parking spaces for visitors. You may also want to have custom signs for reserved employee or other designated parking spaces. If you utilize a tow service or need to share a parking lot with another business, then this is especially important for maintaining your spaces for your customers.
Property protection signs give your bank customers the security they demand when using your banking institution. For example, if you're dealing with loitering or trespassing, then consider the use of signs to combat these activities. This can be important for your property insurance as a way to protect against potential security threats.
Interior Bank Wayfinding Signs
When your customers step inside your bank building, they need to know where to go without having to ask. Offer building and floor directory signs if you are part of a multi-story or multi-business establishment. After all, the goal is to get them to come to your bank—not accidentally end up in a competitor's front door.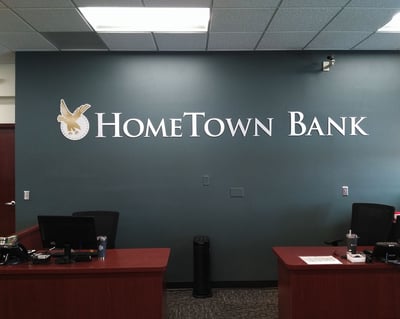 You also need to have branded bank signs indicating offices and positions for employees. This is good for both visitors, as well as employees who are new to your branch or visiting for meetings. Directional signs for various departments, such as the mortgage or loan departments, are essential for a bank. So are ADA-compliant room identification signs for conference rooms, lobbies, restrooms, offices etc.
Another requirement for financial industry signs is that your bank needs regulatory signage. This type of signage includes FDIC compliance placards and occupancy permits that need to be posted within your bank.
Other types of interior bank wayfinding signs include projection and ceiling suspension mount signs, which offer a unique take on bank signage. Rather than being front and center, with projection signs and those signs mounted on the wall, everything is up top. Banks with high ceilings and multilevel offices can use this type of signage to provide visual interest, as well as directions.
Choose the Best Bank Signs in Minnesota
Banks need far more wayfinding signs than you probably realize. Along with directional signage both indoors and out, you also need regulatory and security signs. Your customers need to trust you arguably more so than other businesses, which is why we help you from initial site survey and design through installation and ongoing maintenance to make sure every bank sign builds trust while maintaining your financial institution's brand recognition. To get started, contact Spectrum Sign Systems at 763-432-7447 and request a free bank sign consultation.