The rebranding of a hospital is no small feat. It takes many months of planning, organizing and excellent communication. When it comes to hospital signage, that's where we step in. We were contacted 2 years ago by Northfield Hospital and Clinics about rebranding their hospital and clinics. We worked closely with the marketing and facilities teams throughout the process to ensure the project ran smoothly and that the new branding would work for hospital signage.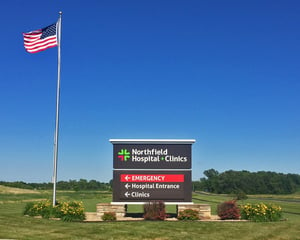 Exterior hospital signs needs to be highly visible so patients and visitors can easily identify building entrances for the services in need. This is extremely important for emergency services. We worked with the marketing team on creating a logo that would be able to be read from a distance as well as provide contrast off of building backgrounds. Having a bolder block style font compared to a thinner serif style provided better readability off the buildings.
Colors were also taken into consideration. We matched standard 3M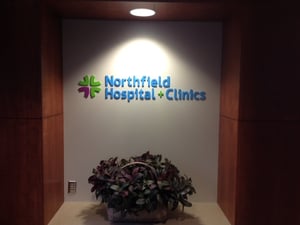 vinyl colors closely with the new branding colors for a uniform palette between interior and exterior signage. These colors also needed to be light enough to work with LED illumination. Darker colors don't illuminate as well and would not provide enough visibility at night.
Not only did we provide new LED illuminated letter sets but also refaced and retrofitted existing sign cabinets with updated directional information. We also installed new LED illuminated monument sign cabinets on existing bases at the hospital and clinics. This helped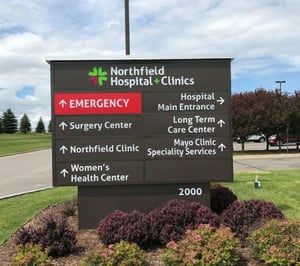 maintain a consistent look across all locations.
We have worked with hospitals, universities and financial institutions on updating brands and increasing visibility. And aside from a substantial amount of time and effort, the success of these projects really comes down to communication.
Do you have an upcoming rebrand? Are there multiple locations to manage? This is where we specialize. Contact us today with any questions!