Pylon signs and monument signs are both freestanding sign types, but what is the difference between the two? This is a common question and while the two sign types are actually more similar than they are different, it is important to learn the differences. Knowing the difference will help eliminate any confusion when going through the process of purchasing a sign and result in a more positive experience for you.
Sign Height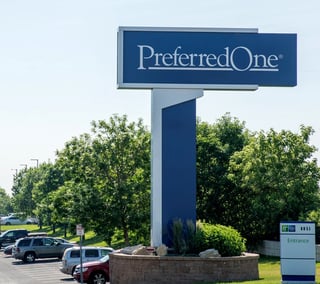 The first difference is the height of the signs. Pylon signs are typically taller, more vertical structures, where monument signs are shorter and stockier. City codes often state that in order for it to be categorized as a pylon sign, it must be at least 20'-0" tall. The difference here is that monument signs are generally around 8'-0" to 12'-0" in height. When taller signs, make sure you have the added internal structure to withstand wind load.
Sign Visibility
The second difference is visibility. Pylon signs are designed and placed so they can be seen from a distance. They are often installed along busy roads and highways in order to reach a larger audience driving by at higher speeds. Since monument signs are lower profile, they are usually installed near the entrance of the business. This way the sign is closer to eye level for motorists traveling at lower speeds.
Preferred One in Golden Valley is a great example of a company that uses both types of signs. They had existing monument signs landmarking their entrances but wanted to expand visibility to the freeway south of their location. The solution was to fabricate and install a new LED illuminated pylon sign to catch the attention of those traveling on the freeway while utilizing the monument sign to guide visitors to the entrance of the building.
Our team at Spectrum Signs works closely with our clients to ensure a successful sign process and final product. If you have any questions about pylon or monument signs, contact our team today—we'd love to talk to you!