Thinking of making your office signs brighter this holiday season? We're not talking about decking the halls per se, but illuminated office signs! Illuminated signs have taken the world by storm with eye-catching colors, low maintenance, and longevity—LEDs have many benefits to help your place of work. Whether your office signs need a renovation or you want to to add a little more oomph to your brand, there are advantages you get when a little illumination is added!
Draw Attention to Brand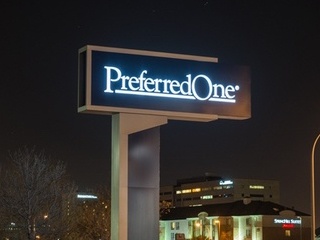 An illuminated office sign is the best way to strengthen your brand impression. It not only helps your clientele find you, but it also provides you recognition within your community. Think about when you are driving down the highway. You can't possibly give your attention to every sign you pass while safely watching the road. That's where illuminated signs come into play. Increase the chances that YOUR sign is the one that grabs passerby's attention. Once they take notice, they will have more brand awareness and may just stop in to see what they're missing out on!
Visible 24 Hours
We've said it before: your office sign is your best advertiser. And with illuminated signage, it can be advertising 24/7/365! If you have later hours, you are able to project to those driving by that you are open, and even if your business is open regular hours you're still able to broadcast who you are for them to stop by during those hours. Illuminated office signs allow you to be marketing all the time!
Visible During Any Weather
While non-illuminated signage can be seen during sunny days, there's less of a chance it'll get seen during rain, snow or clouds. Illuminated signs pierce through rainy skies and their message isn't lost on passerby, even in the worst storms.
Customizable
With electronic message centers, you can display a longer message than just the name of your business. If you want to advertise for events, give congratulations, or send a message to passerby, electronic message centers can help. You can also customize them as often as you want, so each message is timely to that day or week and you can even tailor your messaging to a specific target audience.
Cost-Effective and Eco-Friendly
With LED bulbs on the market, every business should be able to afford illuminated signage. LEDs have little maintenance and each bulb will last for 10+ years. LEDs are also very eco-friendly, compared to CFLs, which used to be the green alternative. The money you spend on upgrading to an illuminated sign you'll get back in business, and you don't have to worry about the environmental impact!
Both Indoor and Outdoor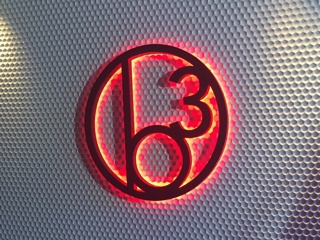 Illuminated office signs are not just for the exterior of your building! Why should the brand promoting end as patrons walk through the door? Sounds counterintuitive, doesn't it? Continue the branding experience for your consumers from the parking lot to the front entrance. Outdoor illuminated signs attract people to your business while indoor office signs continue the advertisement in-house. Use company colors, your logo, promote sales, and more with your interior office signs!
Wide Range of Options
Signs have more options than ever before when they are illuminated! You can choose from a wide variety of colors and styles, including channel letters, cabinet signs, backlit, electronic message centers—the list goes on and on. You can have the lights change colors or have an animation displayed, all of which aids your business in drawing potential consumers' attention and promoting your brand.
With these benefits your business will always be marketing your brand, even after hours. Illuminated signs are growing in popularity and you'll want to stay ahead of the curve. Here at Spectrum Signs, we're able to offer a consultation and a site survey to help you illuminate your office signs (both interior and exterior) to truly showcase your company and your services!