Your office sign is an integral part of your business. When drivers pass by your work place, you want them to take notice and you also want your interior signs to keep up your aesthetic throughout the office. So how do you know if you office signs are in desperate need of a renovation?
Renovation is a less expensive way to give your signs new life without starting over from scratch. Here are some indications that your office building signs need a little pick me up!
Your Signs are Not Creating a Big First Impression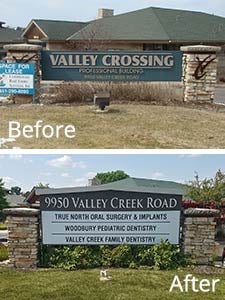 Does your sign stand out from the crowd? Or is it fading into the background? If your office building sign isn't shouting out who you are to the world, it's not making a lasting first impression.
There are many ways to renovate your signs so they build recognition and keep new customers coming in. One way to grab attention is with the color of your signs. Contrasting colors are said to increase viewer's attention by 78%. Bright colors will also catch the attention of those passing by. Are the colors of your logo not particularly bright? No worries! A simple border around your sign focuses attention and helps consumers to read your brand faster and retain the information it presents to them.
Utilizing white space or even adding LED illuminated letters can do a lot to make a lasting impression on potential customers and can all be done with a simple renovation.
There is No Cohesiveness Between Interior and Exterior Signs
Bring harmony and fluidity as your consumers move from the parking lot into your office building with matching signs. It's great to have your brand exposed both as an external sign and as an internal sign, but it's even better if the signs go together to promote cohesiveness and unify the outside of your office with the inside.
Directional & ADA Signs Can No Longer Be Read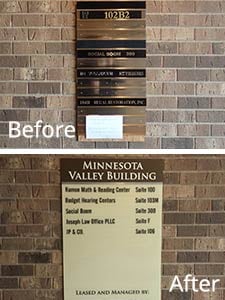 Being ADA compliant, as well as providing accurate directional signage, is extremely important for the safety of your customers. Your ADA signage must be able to be easily read and accurate as to where parking is available or where accessways to the building are.
Your directional or wayfinding signs must be accurate in where they are pointing your customers. If your office has a big parking lot or even a parking garage, guests need to have directions to your main office. If they can no longer be read or understood, they are no longer doing their job and a renovation is definitely in order.
For more information on how your business can be ADA compliant, check out one of our previous blogs that discusses the newest regulations for Minnesota.
Your Signs are Looking Worn or Outdated
Faded or chipped paint? Outdated coloring? Branding is no longer relevant? These are some of the top indicators that your office signs need a renovation. With some sanding and a fresh coat of paint, your sign can look brand new. Perhaps you opened another office with new signs and now need to go back and update the older office signs to match. Not a problem. Here are Spectrum Signs, we have you covered for your sign renovation needs.
Renovating a sign is a great alternative to completely creating a new sign. At Spectrum, we have a 5 step process we use when determining if you should replace your sign or if renovation is an option. Contact us today and we'll be happy to survey your existing sign!