Whether your office space is in a larger development with other businesses or its own brick and mortar, when a visitor walks in, your interior reception sign is going to be one of the first things they see. It tells them they are in the correct building, and it's the first impression of your brand. But what really is in a sign? What does it say about your company? We have three things your interior office sign is telling your customers about you.
Your Employees are Happy and Productive
Workplace decor can actually have an effect on employees! Your employees more than likely spend the majority of their time indoors. This can have negative effects on performance. But when the design of the office space is organized, bright, professional, something to be proud of—employees' well-being and productivity go up. When a visitor enters your establishment and sees that your interior reception sign goes with a decor that screams "happy and prosperous", they'll know your employees enjoy their work.
You Take Pride in Your Work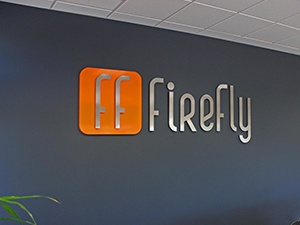 Having a sleek on-brand interior reception sign looks and feels professional and welcoming. When an interior sign is hung right above or around your reception area, more than likely there is a happy-to-help employee nearby. Guests will see the sign, know they are in the correct office, and their eyes will be drawn to a welcoming smile. Your visitors will see you have pride in your brand as it continues from any exterior signs. If a client sees you care about how your office space looks and feels, they'll know they're in good hands.
Clients Can Trust You
In addition to your sign showing you take pride in your work, it also shows clients they can trust and rely on you.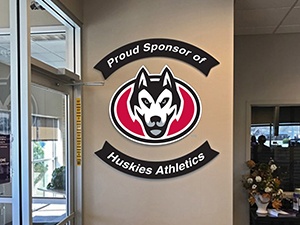 With your interior reception sign, you can command a room with cohesive color schemes and logos. When your sign truly conveys your brand you tell visitors you are capable of meeting (and exceeding) their expectations. Think about it: if you were to walk into an office with inviting, on-brand decor, the focal point a professional reception sign, you would be more comfortable and trusting as well. When your first impression is a good one, visitors will be sure to return.
Having a professionally made interior reception sign in your office can say a lot about your company and your work. Spectrum Signs understands this and that's why we are there for you every step of the way from design to installation and more. Contact us today and we will get your reception sign talking!