Woodlake Office Centre
Richfield, MN
Sign Package: Monument Signs and Address Numbers
Industry: Healthcare and Commercial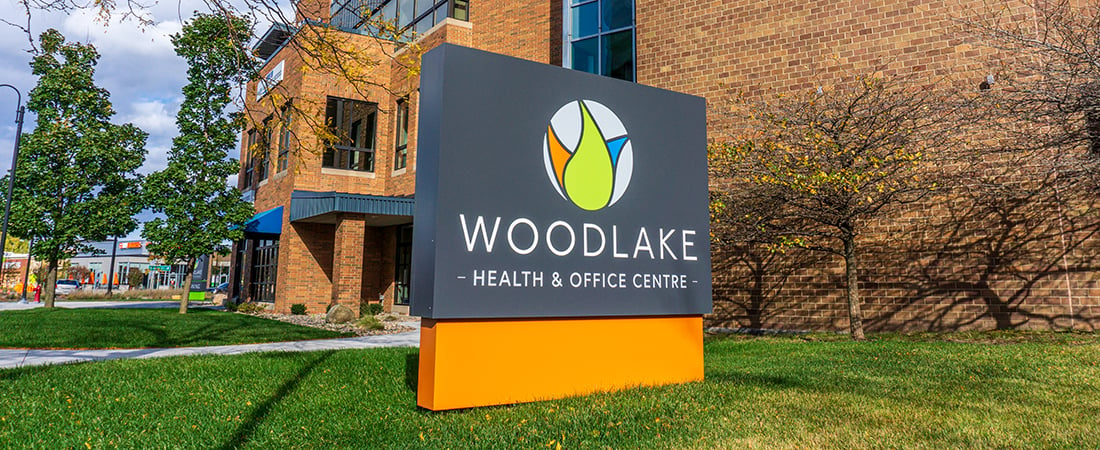 The Problem
Woodlake Office Centre is composed of offices and a clinic located in a busy area on American Boulevard in Richfield. Visitors to the office center were having a hard time finding and identifying the buildings and finding the entrances to the parking ramp. The office complex was located close to the road and the streets cross in an odd direction making it difficult to see the building from more than one direction.
Cushman and Wakefield approached Spectrum Sign Systems to help them solve this problem. We met with the owners to discuss all of the issues and did a site survey so that we could see for ourselves what the issues were. We watched traffic patterns and watched people try to find the entrances. We walked the entire area and noticed that visibility was definitely an issue. We looked for the best sight lines for signage.
The building also has two entrances each with a different address. This was also causing confusion.
The Solution
After gathering all the data, we proposed two colorful monument signs with some directional content to help guide people to the parking ramp. Each entrance would be a different color combination of the brand so that they would stand out as different. One monument sign used a bright green color and the other used bright orange.
Each entrance to the building was then labeled with dimensional address numbers to make it easier for visitors to identify which entrance they should go to.
The combination of highly visible signs with wayfinding and bright colors that attract attention has helped solve Woodlake Office Centre's issues making for a happy customer and happy visitors to their location.
Problem
Business is located on a very busy road with confusing intersections
Visitors could not find their way to the building or the parking ramp
Building had multiple entrances with different addresses
Poor visibility
Solution
Monument signs placed in areas with best visibility
Use of bright colors to attract attention
and directional content on signs
Color coding of monument signs and building signs