Woodbury Lakes
Woodbury, MN
Sign Package: Pylon Sign, Monument Sign, Dimensional Letters, Directional Sign
Industry: Retail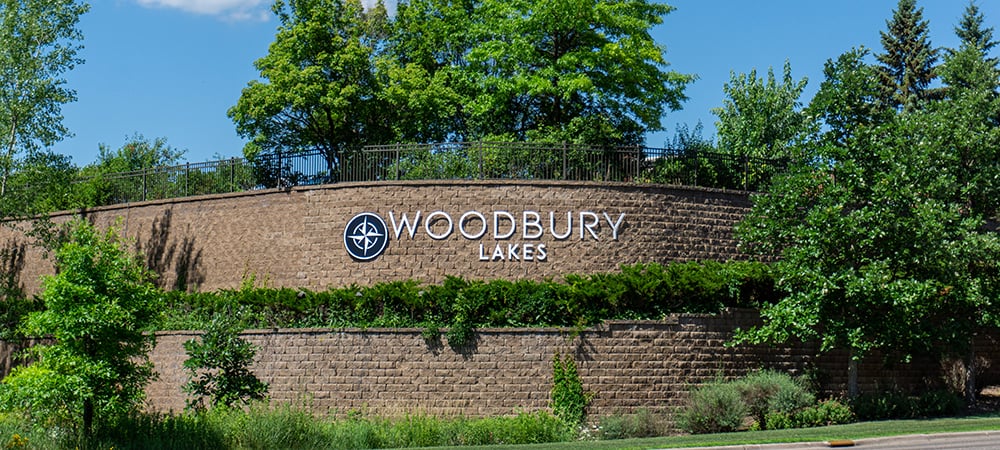 Woodbury Lakes outdoor shopping center went through a rebrand that included an updated logo with a new graphic image and a new font. This required updates to the existing signage around the retail center.
Before the new illuminated channel letters and logo could be installed on the pylon sign, our team had to replace six 10' x 4' face panels on each side. The face panels were made from painted 1/8" aluminum, and since the freshly painted panels did not match the faded paint on the rest of the sign, those portions were repainted as well.
Once the painting was finished, a new 2'10" x 14' illuminated letter set was installed on each side of the two-column pylon sign.
There were four brick monument signs around the property that needed a brand refresh. This required careful removal of the old letters so damage to the brick was kept to a minimum. The old penetrations were sealed and the new logo and letter sets were carefully installed into the existing brick.
The property also had a large monument sign attached to a brick retaining wall. The large retaining wall posed access issues for our installers making it impossible to get a truck into position. Our experienced installers used their knowledge and experience to come up with a solution which allowed them to install the massive 27' wide logo and letter set.
When finished, the project brought to life the retail complexes new updated look.
Project Highlights
Brand refresh of a retail complex
Pylon sign was refaced and repainted and new signs installed
Existing brick monument signs needed careful removal of old signs and patching of the brick
Large retaining wall with signage posed an access problem that installer were able to overcome