Lexington Station
Arden Hills, MN
Sign Package: Monument signs, address numbers, dimensional letter sets
Industry: Retail property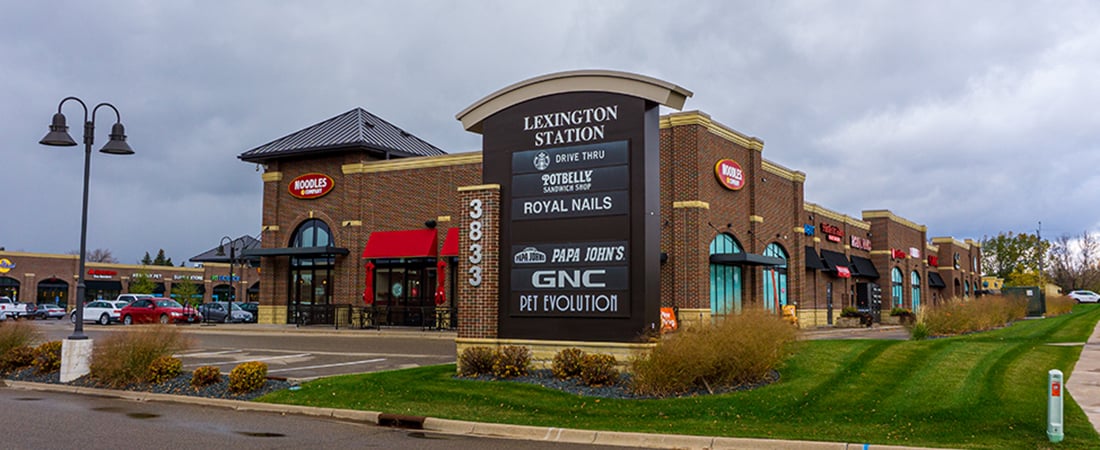 Lexington Station
Lexington Station is a multi-building retail complex with shops and restaurants located in Arden Hills. Developed by Kensington Development Partners, the project has been developed in three phases.
During phase one, Spectrum Sign Systems met with the Kensington team to discuss their goals. The buildings were designed with a distinctive brick facade and they wanted the signs to have a premium look to match the architecture and look of the buildings.
To attract consumers, we proposed a custom made 20 foot high monument sign designed to capture attention and match the building. The main body of the monument was painted a dark bronze color and featured an acrylic letter set that was pushed through to give it added dimension. There was plenty of space for multiple tenant names below this.
The top of the sign consisted of an aluminum arced cap that was painted the branded tan color. A red brick column was added on the side which prominently displayed the deep cast aluminum address numbers painted metallic silver to make them pop.
The complex also had two beige brick walls in need of branding. We designed and installed dimensional letter sets finished in a dark bronze color to make them stand out from the beige background and in keeping with the brand standards.
Unique aspects of the project
Typically when working with a masonry base, the base is installed before the sign cabinet. Because the sign cabinet had a special shape and notch in the side, we installed the cabinet on the internal steel structure and were followed-up by our mason who installed the block base and brick column.
Each phase of the project included monument signs with branded inserts for each of the tenants. Each tenant had to submit branding guidelines. Once the tenant's sign insert was mocked up using their branding guidelines, each tenant had to approve the mock up before going into production.
Due to the number of tenants involved, submittals and approvals can be a time consuming project. Our project management team was very involved in this phase of the process to stay on top of tenant submittals and approvals in order to keep the project moving forward.
There was also a considerable amount of utilities in the area. This required us to work with multiple utility locators to make sure we were digging in clear spaces so we could keep our team safe and not cut power to the project.
The end result
Spectrum Sign Systems has designed highly visible monument signs and dimensional letter sets that compliment the buildings' architecture. We have handled all three phases of this project.
Project Highlights
3 custom made 20 foot high monument signs designed to capture attention and match the buildings
Management of a large number of tenants who had to submit branding guidelines and approve mock-ups
Coordination with utility locators to identify the many underground utilities in the area