Exterior signs are the first impression to your mobile audience. They are designed to showcase your branding and highlight your company's location. With that being said, you want the impression being made to be a positive one. What you don't want is a sign with faded faces or chipped paint representing your company. Below are some things to look for to help determine if your sign in need of renovation or repair.
Chipped or Faded Paint
If your sign does have chipping or faded paint you do have options! As long as the structure of the sign is in good shape, we can sand, prime, and repaint the sign to restore it back to its original look. If you think it's time for a new look, we can also go with a whole new color.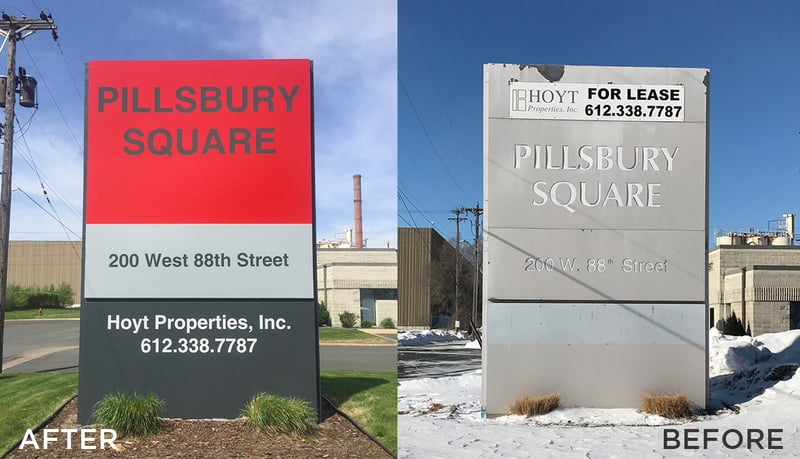 Neon or Fluorescent Lighting
If you have an illuminated sign that uses neon or fluorescent lighting, our number one recommendation for that is an LED retrofit. You can save yourself a significant amount of money in service calls and maintenance if you replace an old lighting system. LED retrofits aren't just limited to letter sets anymore. They are also used quite frequently in freestanding signs. Here is the full list of benefits of LED signs.
Identification Faces
Identification faces are used to display tenant graphics and building names. The two most common types of sign faces are plastic and aluminum. Over time the sun causes white plastic faces to yellow and graphics look faded which makes them also appear discolored. These faces are often just replaced since there isn't a way to refurbish them.
Aluminum faces are made from the same material as the sign itself and also use the same painted finish. If the paint is faded, they can be sanded, primed, and repainted. We can also replace the acrylic backing in routed aluminum faces which helps give it a fresh new look.
Dated Color Scheme
The color scheme that was modern ten years ago most likely doesn't look as sharp as it once did. If If you want the sign to reflect the building environment or your current branding, we can repaint to match any color scheme you choose.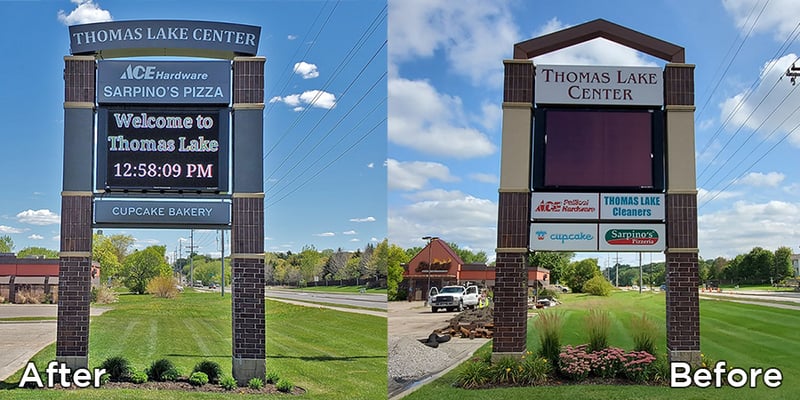 Branding Has Changed
In order to display a consistent message you always want your signs to display your most current brand. But what if you have multiple locations and aren't sure of the signs that require updating and those that don't? At Spectrum, we put together a sign audit, showing all existing interior and exterior signs at each of your locations. This helps you determine the signs that need to be rebranded, so you can display a uniform brand across all locations.

Exterior signs face extreme weather conditions, especially in Minnesota. We really can't prevent the snow, rain, wind, and sun from taking their toll. However, there are some precautions that can be taken to extend the life of your sign:
Make sure sprinkler heads are pointing away from signage. Having water spray on the signs wears on the paint and leaves streaks on the sign after it dries. This is especially true if you have hard water. Hard water can completely change the color of your sign by causing it to look rusty.
Landscape around the sign to prevent maintenance crews from damaging signs with equipment. Weed whips and lawnmowers can cause damage by throwing debris at the sign.
If your sign is near a sidewalk or road, try to avoid hitting it with snow from snowplows or shovels. That may sound obvious, but it happens quite regularly. Snow often contains salt that was used on the ground and can cause damage to the sign, much like it does to a car.
If you are unsure if your existing sign is suitable for renovation, we can have our experienced staff survey the sign and structure to determine the best course of action. Whether your sign just needs new faces or a whole new lighting system, we can help your sign make a positive first impression.