When it comes to your church, visibility is of the utmost importance. Share your faith with those around you with an LED electronic messaging sign. You'll be able to reach out to the public 24 hours a day to truly showcase your services, classes, functions, and more. See how LEDs can transform your congregation!
Widen Your Reach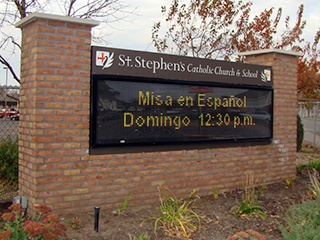 One of the top goals churches have is to spread their word to the community! Reaching out to the surrounding neighborhoods and businesses will drive new members and make them feel included. Showcase service times and when Sunday school classes are to let newcomers know when they can join you. Greet newcomers with your sign so they know they are welcomed within your establishment for worship! When your local community begins communicating with your congregation, you are able to enhance the overall atmosphere of your service.
Flexible Messaging
Churches can have a lot of events going on! Whether there is a youth mission trip, a potluck, silent auction, or charity work; your church is able to spread the word and keep members in the know with an LED electronic messaging center. With the electronic messaging sign there is an unlimited number of messages you can display. Have one for welcoming new members, one for service times, and one for the 5k race for charity your congregation is participating in. The messages are easily set up so you can make sure each announcement is put on the board in a timely matter. This also ties back to our first point about getting your local community involved. Invite them to join you for a silent auction and maybe meet some new members in the process!
Performance Efficient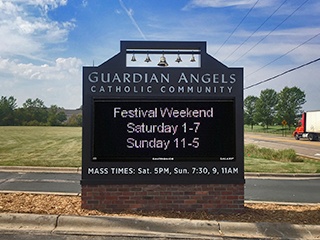 Looking to make an investment for your congregation? LED electronic messaging signs are a great way to advertise your church while being performance efficient. With high resolution and high contrast, your sign will have the best looking graphics around! Not only that, but LED electronic messaging centers require less energy and are completely sealed to keep it safe from environmental damage like rain or snow. With Spectrum Signs your LEDs would have a 5-year manufacturer warranty and we offer onsite training of the software as well so you can really showcase your church!
Your church and congregation will gain so much from investing in an LED electronic messaging sign. Spectrum can help! Our experienced team can recommend the correct LED center for your needs and we offer unlimited color capacity. The benefits your place of worship will see with a LED sign are endless!