If your signs look faded or don't work properly, you may be projecting the wrong message to your prospective customers. First impressions are key! That's why sign maintenance for your interior and exterior signs are important too.
Let's take a look at some of the building signage maintenance tasks that can add life to your signs and keep them looking great. Spectrum Signs Systems has a maintenance team available to perform professional maintenance that may add to the life of your signs and increase your ROI.
Exterior Sign Maintenance
Following these simple maintenance suggestions can improve the look of your exterior signage.
Exterior building sign maintenance checklist:
Clean your exterior signs regularly. If needed, bring in extra staff to do so.
A quick refresh after heavy rains, ice storms, and strong winds remove dirt and grime from your signage.
If you have an electric sign, make sure to turn the power off before cleaning.
If you use a nozzle sprayer, hold it at least one foot away from the sign to avoid damaging it
if you can reach the sign, clean it by hand using a mild liquid detergent and soft, lint-free cloth
Remember that dirt tends to accumulate in crevices and corners
Rinse the sign thoroughly to ensure your detergent doesn't damage it or leave behind a residue. If you can, wipe it dry to prevent water spots. It's also a good idea to check the base, sign face, letters and other elements for damage. If you see anything, schedule a repair visit from a spectrum signs technician.
Things to Avoid When Maintaining Exterior Signs
Power washers higher than 200psi may damage your sign. You should also use water below 180 degrees. Stay away from harsh chemicals, scrapers, newspaper, paper towels, and abrasive brushes and cloth. These may scratch and pit surfaces and dull your sign.
The Spectrum Signs blog always has tips and tricks for keeping your signs clean and in working order.
Maintaining Interior Signs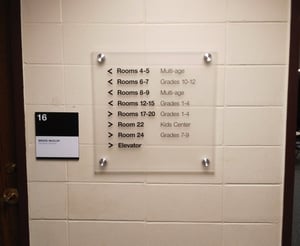 Choose the right location to protect your interior signs. Install signs out of direct sunlight since this can cause fading, warping, and discoloration. If you have to place signs in direct sunlight that comes through doors and windows, consider blinds that filter the light.
Interior building signage maintenance is a bit easier than outdoor maintenance since out of the weather.
However, you still need to clean and inspect them regularly. Check for splatters and spills, fingerprints and unsightly debris. For example, if you own a convenience store, you have to constantly wipe down signs near food counters and soda fountains.
In a doctor's office, interior signs indicate the route in an out of the exam areas. Every business should take a look at its customer flow, add signs if needed and clean any wayfinding signs used by customers.
If you have metal or acrylic signs, use warm water and a mild dish soap combined with soft cloths to gently clean them. Skip commercial cleansers and glass cleaners because their formulas can weaken sealants and cause damage to your signage.
Maintaining LED Signs
The process for cleaning LED signs works much like cleaning interior signs. You can spot clean your LED lights with glass cleaner and a soft towel, just avoid harsh chemicals in cleaners such as Lysol and Pinesol.
To extend the useful life of your LED signs and save energy, turn the power off to your signs when not used by the business
Professional Sign Maintenance
Our building signage maintenance team performs many tasks for businesses, schools, and hospitals, including the following:
External and internal sign repairs
Removal of debris and bird nests
Touch up paint
Treat rust, repair chips and cracks
Replace and repair panels
Replace or redirect bulbs
Emergency repairs and routine maintenance
Fix posts and frames
Storm damage repairs
Replace or repair front desk, lobby, and wall signage
Maintain parking lot lighting and signs
Contact Spectrum Sign Systems Inc. for more tips on building signage maintenance, or to schedule a routine visit from our sign maintenance team.