4 Reasons You Should Renovate Your Old Monument Sign
Topics: Sign Information
It's time for a change.
Do you have a monument sign that is an eye sore? The paint is chipping, and the faces and graphics are faded. While you could just get an entirely new sign, it isn't always necessary to do so. Often times the sign can be refurbished to look and function like a brand new sign. So, why should you renovate your sign instead of completely replacing it?
Renovating is Cost Effective
Reusing the existing structure is a huge cost savings, compared to installing all new. We will have one of our service techs survey the sign to make sure that the internal structure is suitable for renovation. Once that is confirmed we can propose the best solution for renovation.
Less Waste is Created
Reusing materials and repurposing the sign structure creates less waste for the environment. We also offer LED retrofits for all signs that are illuminated. LEDs require less energy to operate compared to fluorescent or neon lighting.
Quicker Turnaround for Job Completion
Often times a sign renovation just includes painting and new faces. Since there is little to no fabrication involved, it is able to be completed in a timely manner. Being in Minnesota, winter months don't allow for ideal painting conditions. Keep in mind for projects that require repainting, they should be completed between spring and fall.
Because It Looks So Much Better Than Your Old Sign
Seriously though, what a difference some paint and new tenant ID faces make. Potential customers/patients are driving by your sign every day. Those consumers take businesses more seriously when the signage out front is in good shape. No one wants to look at faded faces and chipped paint.
Do you have a monument sign that is in desperate need of some work? We can have our team take a look at the sign to make sure it is suitable for renovation. Then we will propose different solutions that best work for you and your sign. Let's work together and make it eye catching for the right reasons! Sound good? Connect with us today!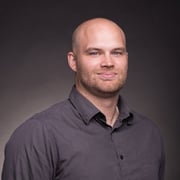 "http://cdn2.hubspot.net/hubfs/545157/assets/images/patrick-woller-spectrum-signs-square.jpg"
Patrick Woller
Patrick is a Graphic Designer at Spectrum Signs, a custom business sign maker in Blaine, MN. After a call from his college placement office, Patrick joined the Spectrum Signs team in 2010. Patrick finds enjoyment in the unique challenges his job gives him through the use of out of the ordinary materials. When Patrick isn't designing signs, he enjoys spending time with his wife and daughter, hiking with his dog Willis, and getting out on the golf course.