Congratulations to O'Shaughnessy Distilling Company on the recent grand opening of their gorgeous new Whiskey Lounge. O'Shaughnessy is bringing a world-class line of Irish and American whiskeys to the Twin Cities. The family vision of a distillery that brings people together and is a source of pride for the community was jump-started with the acquisition of the former master-distiller of Jameson, Brian Nation, as master-distiller. The distillery, located near Surly Brewing is sure to be a must stop for whiskey lovers.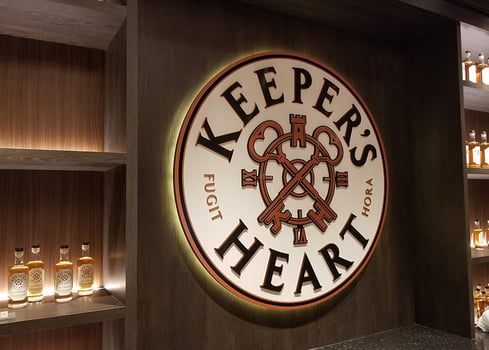 Spectrum Sign Systems Inc. was excited to be a part of this project with O'Shaughnessy Distilling Company. When designing the interior, they placed a high value on high end finishes. We worked with O'Shaughnessy's team who provided an intricate logo design of their signature Keepers Heart Irish American Whiskey and a clear vision that saw the importance of unique and high-quality signage and brand recognition.
Spectrum created both an illuminated and non-illuminated logo display for the interior of the gift shop of the new distillery. The illuminated sign includes flat cut acrylic letters and logo components of different thickness layered to provide depth. The three color sign is backlit with high intensity white LED to give a halo glow around the outside circle.
The other logo display included Keeper's Heart letters and a six piece logo of cut aluminum painted matte black and stud mounted on a brick wall background. Spectrum took special care as we mounted the logo display, using a tile bit, to protect the brick wall background.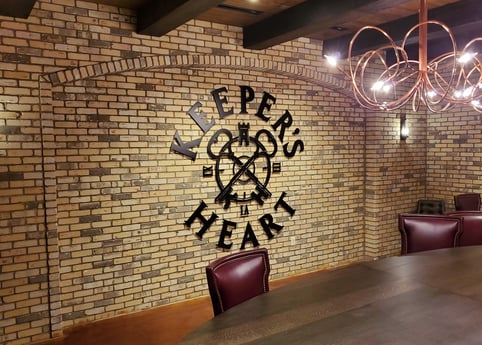 One of the most unique aspects of the interior signage is the elegant room identification and ADA signage as well as over 60 tank identification signs. The room ID signs are round matte black signs with raised brushed copper penny text and double raised borders that simulate the look of the copper stills used in the facility. Each sign includes a ghost image of the O'Shaughnessy logo that changes perspective when walking past.
As well as working closely with the O'Shaughnessy design team, Spectrum worked with the contractor, PCL Construction, whose well organized and highly effective communication skills align well with Spectrum's.
Cheers to O'Shaughnessy Distilling Company on their new venture, which is sure to become a Twin Cities landmark.