M Health Fairview Southdale Hospital Expansion
Topics: Project Recap
M Health Fairview recently added 52 new patient rooms as part of its two-story expansion at Southdale Hospital. The 38,206-square-foot addition is built on top of the hospital's existing Carl N. Platou Emergency Center.

Continuing its ongoing relationship with M Health Fairview, Spectrum Sign Systems handled the signs for this project.

We installed the original signage at Southdale Hospital as part of M Health's rebranding. With the two-story expansion, the existing branded sign would now be blocked, and the Carl N. Platou donor sign for the emergency center's entrance also needed to be replaced.

When consulting with M Health Fairview's marketing department, their goal was to create signs that would showcase their brand and landmark the building and honor their donor. The original sign had a variance on it, so we had to make sure that the new sign fell within the allotted square footage and met both M Health Fairview's branding requirements and the city of Edina's requirements.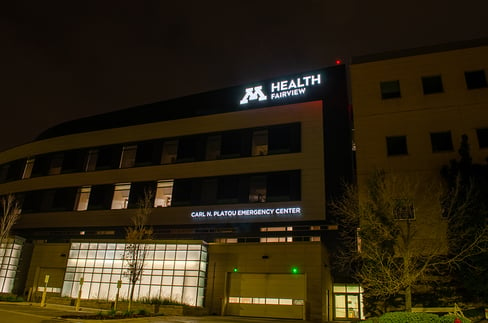 The collaboration resulted in a large, 28 foot long by 6 foot high by 5 inch deep, M Health Fairview logo and letter set made with high impact white acrylic faces illuminated with white LED lights.

We also worked closely with the construction team to figure out the best way to attach the large sign and where to put the electronics. A screen wall was built and the sign was attached to it, rather than the building, after review and approval from a city engineer.

We also created the Carl N. Platou Emergency Center letter set and installed it above the ambulance entrance. The white acrylic faced letters use first surface perforated black film with white LED illumination. We worked closely with the construction team to be sure the installation and placement of the sign only penetrated the water barrier in one spot.

Spectrum provided design, fabrication, and installation services and collaboration was paramount as we worked with the marketing team, architect, electrician, facilities team, engineering team, construction team and the city of Edina.

The end result is a beacon that identifies the building and the M Health Fairview brand for patients, visitors and Edina residents.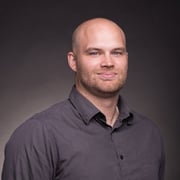 "http://cdn2.hubspot.net/hubfs/545157/assets/images/patrick-woller-spectrum-signs-square.jpg"
Patrick Woller
Patrick is a Graphic Designer at Spectrum Signs, a custom business sign maker in Blaine, MN. After a call from his college placement office, Patrick joined the Spectrum Signs team in 2010. Patrick finds enjoyment in the unique challenges his job gives him through the use of out of the ordinary materials. When Patrick isn't designing signs, he enjoys spending time with his wife and daughter, hiking with his dog Willis, and getting out on the golf course.