Affinity Plus Federal Credit Union has approximately 30 locations and is excited to open a new branch within Lake Superior College in Duluth, MN. Affinity Plus was looking for a sign package that helps students and staff find the location, showcases the entrance to the branch, and welcomes customers. Having partnered with Affinity Plus on many projects, Spectrum Signs knew just what to do.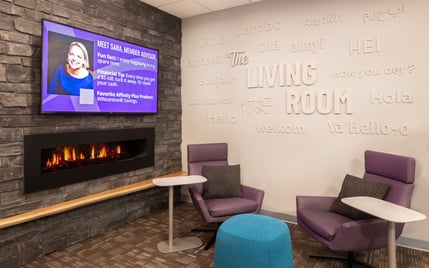 Affinity Plus wanted something unique to welcome students and staff. Their creative team came up with an idea to welcome people using the sixteen different languages spoken at the college. Our creative team designed a unique and inclusive welcome wall using all sixteen languages. Our lead designer researched each language spoken, found the correct translation and verified that the correct accents were used.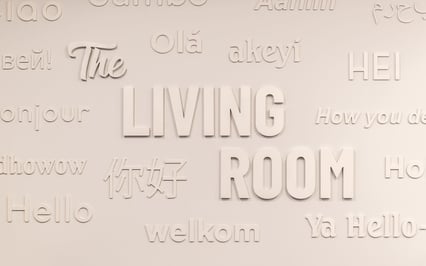 Using 1 inch deep flat cut acrylic letters, we custom
made the words "The Living Room" surrounded by 3/8ths inch flat cut acrylic letters that say "hello" or "welcome" in the various languages. The letters are painted to match the wall background which made for a more subtle overall design.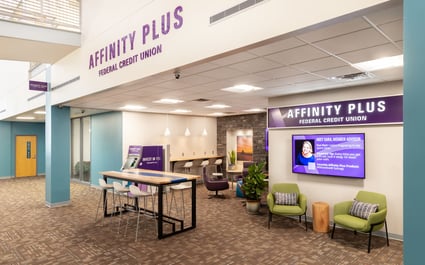 A flat cut acrylic letter set in purple above the entrance, along with a flag mount blade sign allows customers to easily find the new location. Upon entering the branch,
an LED illuminated logo display grabs patrons
attention. The purple routed aluminum face and silver frame
matches the distinctive look of the Affinity Plus brand seen at all locations.
Spectrum worked closely with the Affinity Plus from design consultation through fabrication and installation. We also were in close contact with the construction team on dimensions and nimbly adjusted as the new construction changed.
Whether you are a first time customer or a long term partner, Spectrum Signs can help you create a signature look that is welcoming, aesthetically pleasing, and functional.