Liven Up That Boring Wall in Your Office
Topics: Sign Information
Got a blank wall in your business? Take a boring wall and show off your company's personality by adding interest, color or contrast with a feature or welcome wall. These new styles are bringing life to conference rooms, work spaces, waiting rooms and front entrances.
Spectrum Signs offers a variety of options to bring your brand to life in fun and creative ways including digitally printed vinyl film which can be applied to walls. Get creative using shapes, bold prints, and vibrant colors that highlight your brand identity. We can also add elements such as steel shapes and letter sets to add dimension. Don't have any ideas, but know you want something cool? We'll design options for you to choose from.
Feature Walls
More of today's meetings are taking place virtually offering you a prime opportunity to incorporate your brand into your interior design. Put your brand front and center by creating a feature wall that shows off your logo along with some fun, new style ideas. Your brand will make an impact in the background of your meetings.
Welcome Walls
Make a great first impression with walls that welcome your customers, employees or anyone entering your office. You can welcome people using the variety of languages spoken. And you don't have to stop at welcome. These walls can have inspirational sayings or company slogans.
Spectrum Signs can help you design a wall that incorporates your ideas.
Check out these great examples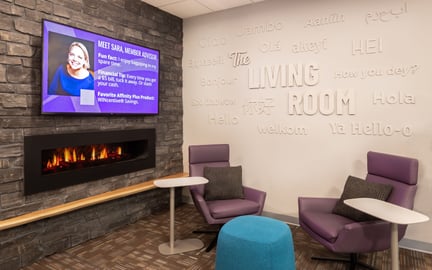 Affinity Plus wanted something unique to welcome students and staff to their new branch located on the Lake Superior College campus in Duluth. Their team came up with an idea to welcome people using the different languages spoken at the college.
Spectrum Signs designed a unique and inclusive welcome wall using all sixteen languages. Using flat cut acrylic letters, we custom made the words "The Living Room" surrounded by words that say "hello" or "welcome" in the various languages. The letters were painted to match the wall background to give a more shadowed look.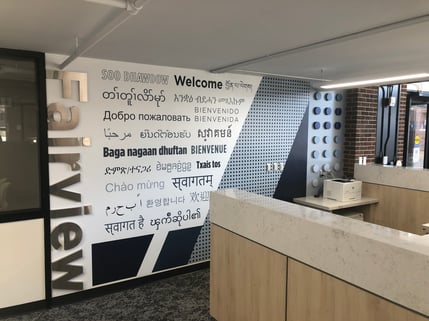 Fairview was looking to liven up the reception area of their corporate office. Spectrum Signs designed a feature wall that included a vinyl wall graphic that displayed "Welcome" in a variety of languages and several different geometrical patterns using Fairview's brand colors. Fairview's name was layered on top of that along with some cool steel dots to make an eye-catching statement as people enter the space.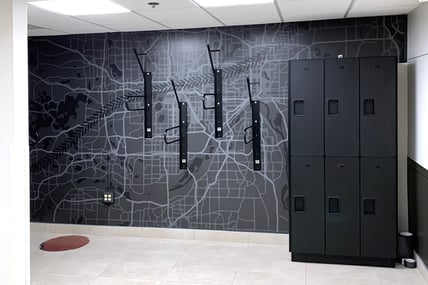 Altus Properties was looking for a way to make the bike storage room at its Edinborough Corporate Center in Edina more interesting for its tenants. The existing room had plain white walls. Spectrum Signs installed a vinyl wall graphic featuring a map of the Twin Cities with bike tire marks running through it.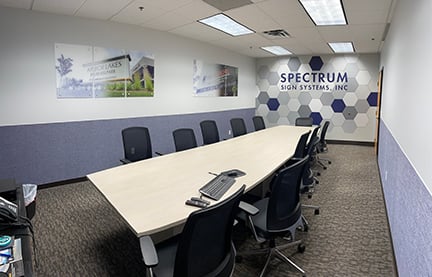 Spectrum Signs was looking for a way to liven up our conference room and highlight our brand and some projects. We created a feature wall using digitally printed vinyl film that featured our logo along with geometric shapes that added pops of color in using our brand identity colors. The result? A fun, new conference room that shows off our creative style during virtual and in-person meetings.
How can we help you liven up your spaces? Call us today at 763-432-7447 or fill out a form and tell us about your project.