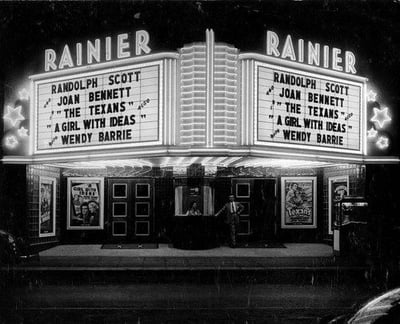 Marquee signs have been around since the 1930's. They are an essential part of attracting foot and vehicle traffic for theaters, hotels, and casinos, while promoting current shows and productions. Traditionally, marquee signs are surrounded with a border of light bulbs, and can feature individual illuminated letters as well changeable copy reader boards. In the past, marque signs were typically illuminated with neon and tungsten bulbs, and messages had to be changed manually by hand. That has slowly been changing with the introduction of LED illumination and electronic message centers.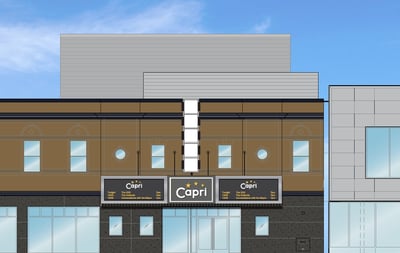 The Capri Theater dates back to 1927 (formerly known as the Paradise Theater), but a recent renovation and new addition is breathing life into the 94-year-old building. The design challenge in creating a marquee and blade sign for the historic theater was blending a classic retro look to compliment the old building, with a fresh and modern look to play off the new addition. The marquee was designed as a 3-piece trapezoid shape, and was painted two colors to match the trim of the old building and aluminum composite panels of the new addition. The center section features a face illuminated logo display with LED rope lighting around the perimeter. The two end sections contain 16-millimeter full color electronic message centers, which can be controlled remotely through 4G cellular communication. 132 LED bulbs line the bottom perimeter of the structure and LED can lights illuminate the sidewalk below. The blade sign, which rests upon the marquee, was design with a simplistic retro style. The 14-foot-tall sign has a radiused front profile and contains LED face illuminated channel letters that are accented by LED rope lighting to simulate the look of a vintage neon sign.
The entire project took over a year to complete and required collaboration between the on-site contractors, architects, project engineers, fabricators, city planners, and the entire Spectrum team. One of the biggest challenges was the structural engineering and attachment method of the signs to ensure the almost 100-year-old wall would be able to support the combined weight of the marquee, message centers, and blade sign. With precise planning, design, and fabrication, the installation went smoothly and we hope the sign will illuminate the streets of Minneapolis for another 94 years.