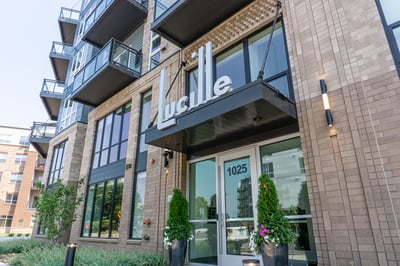 Spectrum Sign Systems and Solhem continue their partnership in Nordeast neighborhood boutique living buildings: Lucille and Frances
Known for building beautiful, sustainable design-forward communities in the best Minneapolis neighborhoods, Solhem has done it again with its unique residential projects: Lucille and Frances. When Solhem wanted creative signage for its new boutique living buildings, they reached out to Spectrum Signs.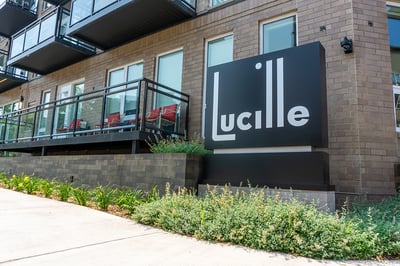 Both buildings called for canopy signs above the main
entrances in distinct fonts. Spectrum worked with the provided font to design and create signature signs that fit the aesthetics of the buildings and the neighborhood. Both signs are non-illuminated reverse channel letter sets that project over the face of the canopy. The Lucille sign showcases Spectrum's creativity and attention to detail as it includes what appears to be a floating dot over the letter 'i'. The Frances sign showcases Spectrum's fabrication abilities with its unique, cursive design.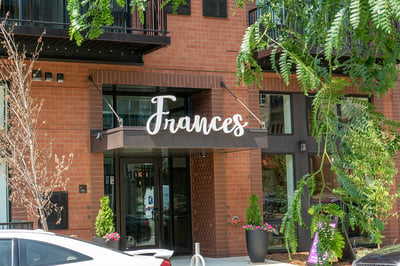 The Lucille building also includes a single face wall cabinet sign as well as a monument sign. Spectrum worked with the general contractor who used the same brick from the building to build the base of the monument sign to tie both together with style. The limited space available for the sign was a challenge that the Spectrum team was able to help solve in the design phase.
The interior ADA, room identification, and unit identification signs of the two buildings were designed to mimic each other, but with inverted color schemes. Spectrum worked with Solhem's desire for a minimalist interior sign presence and ADA regulations for font and braille size to create a distinctive and classic look.