As colleges amp up the energy for back-to-school sessions, it's the perfect time to set the stage as a modernized learning environment. Lead students and their parents to your campus with digital university signs. Using the latest digitalized signage technology and equipment, Spectrum Sign Systems will enhance your campus setting. At the same time, you provide visitors and staff with a central location for all important notices. Invite students back with a digital sign solution that elevates the college experience in these ways.
Spread the Word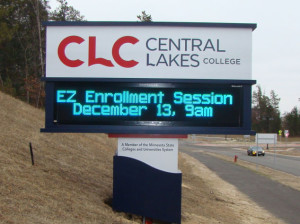 Social connections tie together students and staff to create a college culture. The easiest way to create those social connections is with centralized communication via campus signs. Slide those chalkboards and bulletin boards out of the way. As colleges and universities transition to digital signs, organizations, clubs, civics groups, and staff can announce events more easily.
Digital message boards strategically placed around campus in dorm buildings, dining halls, and gathering spaces get the word out efficiently. Since you are using a digital signage system you eliminate the waste of paper signage. Faculty and staff with secure access can easily update important information in real-time. Students can be kept up to speed with minimal effort on behalf of the university.
Recognition
On-campus digital signs do more than relay info. These signs also create a modern display with the potential to serve as a focal work of art. Use illuminated signage for wall installations and recognize student and faculty achievements in an honorable manner. By incorporating digital message screens into your wall graphics design, you can create seasonal murals or displays in a matter of minutes. Simply switch out the stylish display using technology rather than markers and push-pins.
Attract New Students
As higher education is increasingly competitive, you have to find ways to keep up with the collegiate competition. The use of digital technology for campus signs generates that wow factor that parents and students hope to see. Stand out from the rest and gain traction in the competitive education system with digital signage.
Navigate Campus
The biggest worry of any college freshman is getting lost on the way to class. Thanks to wayfinding signage for your university using digital technology, students can take mapping into their own hands. Help students, staff, and visitors alike make their way around campus with digital maps and wayfinding signs.
Transportation
Along with finding the way around campus, bus routes and school transportation systems can be intimidating. Make sure you are providing your students with the information they need to get on the right bus promptly. Avoid clogs and delays in your bussing system from the first day of class every semester with smarter transportation signage. Digital signs can show the actual arrival and departure times, as well as updated route change information, such as on game days.
Bring Athletics to Life
Speaking of game days, athletics and competitive sports are one of the biggest draws to colleges. Students often attend a particular university solely on behalf of the school's football, lacrosse, or hockey team. Update the sports vibe your school sends out with digital signage. Use signs to showcase sports team logos and graphics. Highlight prominent alumni and athletes who have since gone pro. You can also create graphic banners, floor graphics, room identification signs, and more. Showcase your school spirit through campus signage using the latest digital technology. We can even help you set the scoreboard in lights as you digitize your sports arena signage.
Finding the Right Digital Signs for Your School
A final word of wisdom when getting digital signs for colleges is regulatory compliance. You want to make sure your signage is compliant both in messaging and size based on your school location. Here at Spectrum Sign Systems, we help you choose the right college signs using digital technology. Get started today and upgrade the way your university residents and visitors get around.