Warehouses, production facilities, manufacturing buildings, and other industrial establishments require signage just as much as a retail shopping center, university, or office building. Their signs are there to be informative and helpful for both visitors and employees, along with projecting brand awareness and providing a positive interaction just like other industries' signs.
We've discussed the trending styles of monument signs in a previous blog, how digital message boards are becoming popular along with adding a bit of architecture. We've also touched on trending styles of pylon signs and how dual pillars and illuminated letters are what's attracting motorists these days. Now we're taking a look at the industrial signs we've worked with and the trends we've noticed that create an effective workplace and impressive branding.
Cabinet Signs
Cabinet signs, also known as "box" or "wall" signs have provided a powerful way to draw notice to brand and location. They are typically a form of illuminated signage, but can also be unlit if desired. They provide a "popping-out" visual effect for your lettering and for your brand. When illuminated, cabinet signs are able to highlight bright colors and project sign visibility throughout the night. If there are late-night deliveries or if the building needs to have an eye-popping aspect to grab the attention of those unfamiliar with the area, a cabinet sign is a great choice for an industrial sign.
Bold Block Style Font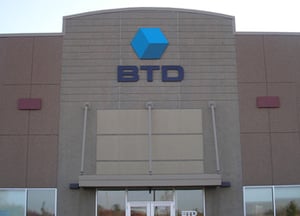 Block typeface font offers a more authoritative look with the type of lettering style it presents, especially when paired with capital lettering. Block style font offers bold and legible text with defined characters that allow anyone to see the importance of your brand at a quick glance for building location and brand consistency. This lettering can be found on the building itself, or on a monument sign as well. The possibilities to incorporate bold block style font on your industrial signs are endless and we are here for you to determine what would work best for your company.
Stone Monument Signs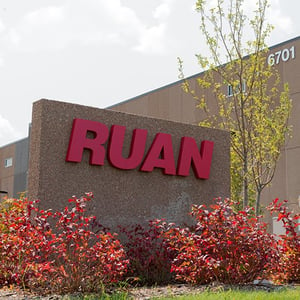 Stone monument signs have been a huge trending style for industrial signs. They are firm and robust signs, but they also present a clean sharpness when cut from a stone slab. This type of signage represents the industrial and commercial industry and would give the bold block style font mentioned above a visually pleasing backdrop as well. There is something dignified and durable about a stone monument sign. They are effective and sturdy, making for the perfect signage outside of a warehouse or manufacturing facility.
Dimensional Letters
Let your sign pop—literally! With dimensional letters, each letter is cut separately and then mounted. This gives off a 3D, industrial vibe that goes well with an industrial company's branding. These letters can be mounted to a monument sign, pylon sign, outside of a building, and more, so the trend is very versatile. A symbol or logo can be cut out and mounted in the same way to add to the cohesiveness of the branding.
Indoor Signage
Complete the overall branding of your company by including indoor signage. Either above or on the reception desk, the signage will welcome your guests in and let them know they're at the right place. Indoor signage is becoming more popular, as it ties the branding together and shows you mean business.

Industrial signs play a big part just as they do for any other industry. We understand the ins and outs of all industries and have worked with many within the industrial industry. Contact our team today! We're more than happy to assist in getting you the right sign for your business that will last for many years to come.