Commercial signs are designed to generate exposure for your targeted audience. So, the main objectives with these signs are that they are readable and installed in a location that provides the best visibility. While having a visible sign is always our number one priority, we also want to create signs that are designed to stand out from the rest. Below is a list of different types of commercial signs we feel meet that criteria.
1. Duke Gateway South - Monument Sign

The Gateway South monument sign checks all the boxes for a commercial monument sign. It's readable, it highlights the building entrance, and has an eye catching design. This monument sign is non-illuminated, but has flat cut aluminum letters to provide dimension. It was designed to feature both the building name and the Duke Realty logo. Another interesting element to this sign was the boulders placed around the base to provide a unique landscaping effect.
2. Red Rock Business Park - Monument Sign
Red Rock Business Park features two identical monument signs that landmark both of the building entrances. The signs have a rough-faced block masonry base which is also used on the building. The building name is routed aluminum which is backed with perforated black vinyl. The perforated vinyl is black during the day, but lights white at night with internal LED illumination. The tenant names were installed using a divider bar system. This allows the tenant names to be replaced with ease.
3. Concur - LED Illuminated Letter Set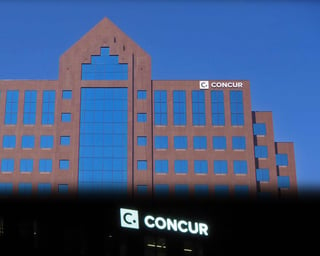 This letter set screams visibility off the top of a building. Literally. It is installed on the top floor of an office building off of a major highway in St. Louis Park, so it needs to be recognized. It is face illuminated with white LEDs and has white acrylic faces for daytime viewing. The 'C' logo is debossed and painted dark grey, giving it the effect that it is cut out of the white background.
4. Nature's Way - Interior Logo Display

Here is an LED halo and face illuminated logo display for the reception area at Nature's Way. The leaf logo is fabricated out of aluminum and painted to match their corporate branding colors. The copy is routed aluminum and illuminates white. The perimeter of the leaf also has white halo illumination. This is the perfect way to display who they are and what they do for those walking into their office.
As you can see, there are different ways to make a sign visible but, also unique in its own way. If you're making the investement in a commercial sign, of course you want it to be visible. What's also important, is that your sign is designed with you in mind. Your sign should reflect your business the same 10 stories in the air, just as it does on the wall in your reception area.