The Americans with Disabilities Act (ADA) went into effect 27 years, and since then has protected the civil rights of people with disabilities in the United States. Businesses do their best to accommodate customers with ADA compliant signage, accessible parking spaces, and more. In early 2016 in Minnesota though, an attorney began doing "drive by" lawsuits, telling small business owners they could pay him thousands or face a lawsuit.
How It Started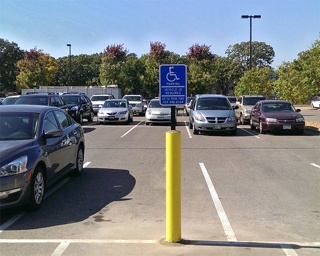 Minneapolis attorney, Paul Hansmeier, has filed more than 160 cases in state and federal courts in the last three years. Business owners have called him a "bully" and a "fraud". The Twin Cities Pioneer Press spoke with the legislative coordinator with the Minnesota State Council on Disability, David Fenley, and reported him stating, "Our concern is that these lawsuits give the ADA a bad name".
Hansmeier feels the opposite and has stated he believes he is creating access for the disabled. As of today, Hansmeier has been suspended from practicing law indefinitely due to his conduct.
New Regulations
As of May 2017, Governor Dayton signed into law amendments to the Minnesota Human Rights Act (MHRA) in hopes of deterring the "drive-by" lawsuits. It requires that plaintiffs give written notice to the alleged violations, as well as, the business owner gets 60 days to fix the offense before any lawsuit can be filed. Weather conditions are also taken into consideration and business owners may be able to receive a 30 day extension if they affirm in writing that they still intend to fix the issue once the weather allows it. An article from Ogletree Deakins further explains the new law in addition to where it would not apply in ADA claims.
How Your Business Can Stay Compliant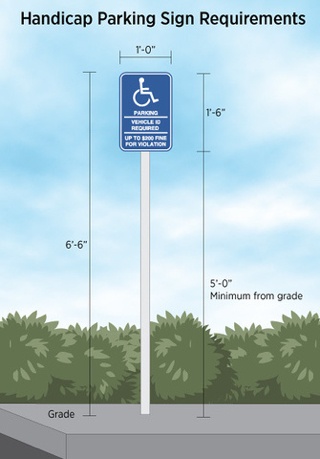 Business owners may be feeling a looming threat of a lawsuit for their ADA signage. We understand this concern so we compiled a few general rules to make sure your ADA signs are compliant with the current laws, preventing you from being a target of a "drive-by" lawsuit.
Accessible parking must be located on the shortest possible accessible route to the building entrance.
Minimum Required Number of Spaces: See chart.
One in every six accessible spaces must be van-accessible.
Parking spaces must be 8'-0" wide.
ADA parking spaces must have a permanently mounted sign centered at the front of the space. The sign must be mounted a minimum of 60", and a maximum of 66" above the parking surface as measured to the bottom of the sign. The sign must be at least 12" X 18" and look exactly like the provided image.
ADA Parking spaces shall have an adjacent access aisle that is at least 8' feet wide (preferably on the passenger side). Van Parking spaces that are angles must have access aisles always located on the passenger side of the parking space.
Access aisle parking spaces shall have a permanently mounted "No Parking" sign centered at the head of the access aisle space unless that sign would obstruct a curb ramp or pedestrian route, in which case "No Parking" must be painted on the access the access aisle. The sign may also be posted on a building at the head end of the access aisle as long as it's not more than 8 feet away.
Have concerns about your properties compliancy? Have questions?
Contact Spectrum Sign Systems today for a consultation to bring your property up to code with ADA compliant signage.