Working in retail truly comes down to one thing: your consumers. Without them you're not able to satisfy demand nor make a profit. But how can you make sure that consumers see you, understand your brand, and above all remember you in the future? As we discussed in our previous blog post, Signs you Need a Complete Sign Renovation, signs are a first impression to your targeted audience. Here are a few ways we've found retail signs can help generate traffic for your business.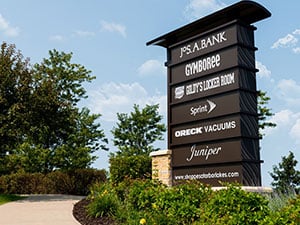 Curb Appeal
A little effort goes a long way when it comes to curb appeal. Keeping things neat and tidy is a good place to start. Retail signs with peeling paint or faded lettering can give off an indifferent impression to your customers, making a spontaneous shopping trip unlikely.
Take a moment to to view your business from the outside. Think about the atmosphere your current monument or pylon sign is giving off. Besides a fresh paint job, you can increase curb appeal with a bit of landscaping by adding a flower bed or shrubs. Make your business welcoming, intriguing, and attractive and consumers will come.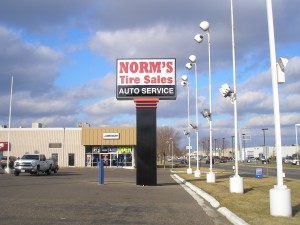 The Right Color
Similar to curb appeal, finding a compelling color that showcases your brand identity is important for driving traffic. What are some of your favorite retailers? Do you first picture their sign and its colors?
Colors can make a business memorable and can deeply impact your sales. Colors prompt emotions. Blues are trustworthy, pinks are calming, purple is luxurious. Red is popular in retail signage as it is attention grabbing and symbolizes importance, almost creating a sense of urgency. What emotion should your brand evoke? Bring out your brand's identity and personality through the color of your sign and your target audience will take notice.
Indoor Signs Reflecting Outdoor Signage
We don't want to forget about the power of indoor retail signs! Indoor signage is just as valuable in generating traffic as exterior signage, mainly because it keeps consumers coming back. The exterior sign has done its job. It has attracted your target audience to walk through your doors. Now what?
Reflect the same TLC you've shown with your outdoor sign. The indoor signs should keep with the same color scheme. This is a great, yet subtle way to advertise your brand to customers currently in your store. The more they see your branding consistently, the more it will resonate with them and in turn, become memorable to them.
There's quite a bit you can do with simply your retail sign to generate traffic to your business. Key points are to make sure your sign is memorable, exhibits your brand's identity, and attracts your targeted consumer. With these tips, you'll have customer stopping in and returning in no time!