A common question we get from customers is, "How long will it take to build our sign?" It's a difficult question to answer because it's one that depends on a couple different variables. There are different types of exterior and interior signs, all of which have particular fabrication processes. The different fabrication methods and materials required bring timelines that can vary in length.
Interior ADA Signs
As with most custom signs the length of fabrication depends on how complex the build is. Interior ADA signs can simply be one material with raised copy and braille to very complex with multiple materials, layers, and shapes being used. The more complex the build, the longer it will take to fabricate. A simple ADA sign can be fabricated and installed in 2-3 weeks, where a more complex sign can run 4-5 weeks.
Interior Logo Signs
One of the most popular sign types we design, fabricate and install are interior logo displays for reception areas and conference rooms. These are usually cut out of sheets of aluminum or acrylic. There are also options for LED illuminated interior logos which take longer to fabricate because of the added fabrication time. The flat cut aluminum or acrylic signs are usually a quicker turnaround and can be installed within 3-4 weeks. Illuminated interior signs can take anywhere from 5-7 weeks.
LED Face and Halo Illuminated Letters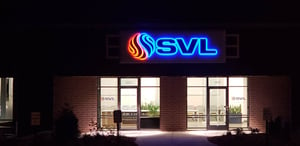 LED channel letters can be face or halo illuminated, or a combination of the two. Face illuminated channel letters are built by bending aluminum to form the outline of the letters. The more detail to any shapes or letters the longer this process takes. Then the backs, LEDs, trim cap and faces are assembled. From start to finish face illuminated letters can take 4-5 weeks.
Halo illuminated letters are a similar fabrication but have metal faces that are welded on, instead of plastic with trim cap. This leaves a much cleaner finish to the end product. We are UL licensed and install the LEDs as the last step in assembly. This custom sign type is usually finished in 4-6 weeks.
Monument and Pylon Signs
Monuments and pylons are types of freestanding signs. Again, as with other sign types the level of customization of the sign can affect how long it takes to build. A box shaped sign at a standard depth uses an extrusion to build the cabinet. Anything at a custom depth or shape requires an angle iron frame to be built. That can add cost and time to a project. Monuments and pylons using standard materials can be finished in 4-6 weeks, where quality custom built signs can take 6-8 weeks.
As you can see, timelines can vary depending on sign type and the amount of customization. These are also general estimates. They can change depending on season, material availability, and the size of the overall project. It's always important to ask about timelines at the beginning of your custom sign project to get accurate numbers. At Spectrum Signs we always keep an open line of communication to keep our customers informed on current fabrication timelines. Ready for your next custom sign project? Give us a call today!