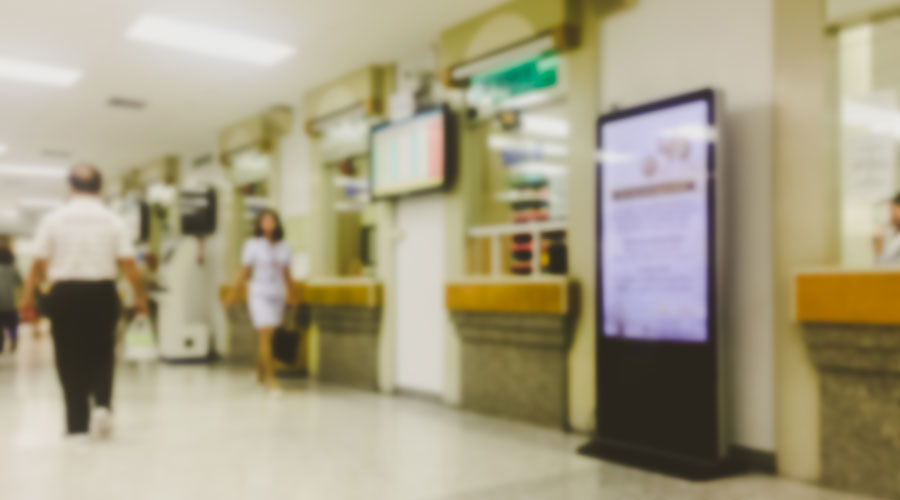 For many patients, the experience of a hospital stay can be overwhelming. Even in the case of less severe conditions, facing medical care is rarely pleasant. As such, improving the patient experience is a consistent objective for medical facilities nationwide.
The first impression of your medical center sets the tone for the entire patient experience. Facilities seeking to stand out from the crowd should consider investing in professional digitized medical office signs for patients to see when they first arrive at your location. In doing so, you reduce the risk that patients will not be able to locate your hospital or office. If they cannot find you, then you cannot serve their medical needs. Improve the patient experience and make sure patients can find your location efficiently. Redesign your existing wayfinding signage to include digital and more modern digital signage.
Update to Digital Wayfinding Signs
The wayfinding signs around your hospital building should provide staff, patients, and visitors with an easy navigational map. Unfortunately, this is not the case as Deloitte Digital reports in Convergent that 30 percent of first-time hospital visitors end up lost in addition to the 25 percent of hospital staff who have difficulty navigating their own buildings.
More than $150 billion is lost annually in late or missed appointments, which can be linked to a lack of navigational signage. Patients who constantly stop in a hospital to ask how to find the cafeteria or their room are taking away valuable time from medical staff. In addition, these patients end up late or missing appointments entirely.
The result can be untreated medical issues that cost the patient more in medical care costs, as well as in personal pain and time lost to medical treatment. The easiest way to remedy this problem, since patients are often in a hospital once or twice in their lifetime, is with intuitive digital wayfinding signs.
What are Digital Medical Office Signs
A digital medical office sign provides all relevant directional information in the touch of a finger. Unlike traditional signage, a digital wayfinding directory gives an illustrated layout of the entire hospital. You can zoom and gain additional information about specific locations and services.
More importantly, the medical office sign can be read in multiple languages. Consider adding digital signage to your valet service, gift shop, cafeterias, and corridors. You are able to improve patient confidence and staff customer service by reducing the load of asking for directions on everyone.
Reduce Perceived Wait Time
When your patients have four blank white walls staring back at them, it truly stretches out their wait time. By adding digital signage you will help your patients reduce the perceived wait time by as much as 50 percent. Read more on how to use digital signs for patients or visitors who are waiting, such as for lab results, a medical service, or an appointment.
Provide visitors with something informative and entertaining to watch. You can use digital medical signs in offices to showcase physician profiles or patient stories. Digital signs can be used to create visual displays filled with photos. Share short videos showcasing the latest medical advice, such as how to protect yourself during flu season.
Relay Information
At the most basic level, medical office signs relay important information to patients, visitors, and staff at your hospital. However, you can share a whole lot more with digital signs. Start with sharing information about awards and in-hospital news, such as special events or medical lectures coming up soon. Connect your patients and staff with these news broadcasts and keep everyone in tune with what's happening in the hospital community.
Hospitals that are for-profit need to advertise in order to maintain their facility. Branded messages and advertising about your hospital is a great way to spread the marketing message. You control the marketing platform and message, unlike advertising on social media channels. As such, these digital signs can be updated in real-time as needed. If you need to transmit a hospital-wide alert, you have digital signs networked to permit you to do so quickly and professionally.
You can also update signage to coordinate with the seasons or to reflect local customs or traditions, such as posting cultural event information during the holidays in the neighboring community. Patients and staff alike who are going to be at the hospital for a while, during the holidays especially, will appreciate having some information on activities outside of the facility.
Choose Digital Medical Office Signs
Ultimately, you want to find as many ways as you can to improve the customer-patient experience at your hospital. Whether you are trying to sell your facility and services to patients in need of medical care, or staff who may work for your hospital—digital signage is key. You are able to provide wayfinding information while creating a sense of atmosphere and vibe for your facility. Let Spectrum Sign Systems assist you with choosing the right digital medical office signs for your hospital by scheduling a free consultation today.