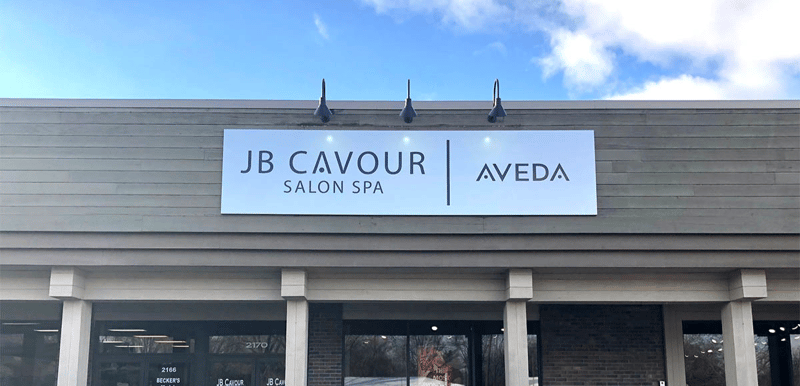 Are you sure your outdoor signs are attracting new customers? If you aren't, there's a simple way to find out. Take a walk along the path where foot traffic may encounter your signs. Drive past your storefront from both directions. If your location is near a major highway, you may need a larger pylon sign to capture attention. To gather a representative view, be sure to get out and look around at different times of day (and night), when traffic is heaviest and lightest, even during a light-to-moderate rain or snow event.
Sometimes, making your sign more visible to passersby is something as simple as adding channel letters, or changing the size or font on existing signage.
Here are 6 more tips to help you increase visibility, and attract more customers.
1. Improve Readability
Poor readability scores could be costing you more than you ever imagined. Consider this statement from the International Sign Association:
"Reach drive-bys with increased visibility ─ the 54% of shoppers (a four-year study average) who say they have driven by and failed to find a business because the sign was too small or unclear. Both older and younger age groups have reported this problem."
What can you do?
Use color and contrast to add visual texture, but don't go overboard. Research has shown that dark letters on a light background are easier to read than light letters on a dark background, often as much as 30%.
Keep messages short and concise.
2. Let There Be Light
According to the BrandSpark/Better Homes and Gardens American Shopper Study, over 80% of people become frustrated when a business sign is too small to read. Adjusting font styles – simpler is better – and letter size, think at least one inch of height for every 10 feet away the customer would be, will help, but you also need the right type and amount of light to ensure your message is crisp and clear.
Proper illumination makes it easier to see your signs from all angles, and enhances readability at night, during daybreak, at twilight and on overcast days. Some people wrongly assume if their business is closed at night, there really isn't any reason to illuminate their monument or pylon sign when the business is closed. That thinking is like saying you should set social media sites to lock-down after hours. Crazy idea, right? A brightly lit sign attracts attention, raising brand-awareness 24/7, 365 days a year.
In addition to internal illumination options, there are many external light sources and each one uses a different placement formula. For example, flood lights positioned on the ground in front of your monument sign will get you excellent illumination if you get three things right.
We generally suggest:
A series of lights set back roughly 75% of your sign height, and
Equally spaced about two times the setback measurement, and
Aimed at a point 2/3 up the monument
To attract new customers with your custom business signs, be sure to ask your design team about both internal and external lighting options based on your sign style, height/width, and location.
3. Consider the Psychological Aspects of Your Signs
Researchers tell us that we "desire coherent environments that we can easily interpret, while at the same time we desire an appropriate level of complexity to keep us interested." The color, shape, and words on your custom business signs should work together to provide a pleasing aesthetic that also excites and stimulates consumers to engage with your brand.
4. Retrofit Existing Signs for LED
Since many legacy signs can be retrofitted for LED illumination, consult with a custom sign provider to see if your business signage can be easily converted to make it more attractive for potential customers.
LED lighting is versatile, more energy-efficient than incandescent and florescent bulbs, and they generally last longer. And, LED lights emit light in all directions, which makes them perfect for viewing from different angles and distances – something essential when you are trying to reach foot traffic, passengers in automobiles and even people who might see your sign from a nearby high-rise building.
5. Represent Your Brand
High-quality business signs signal high-quality products and service. High-quality doesn't have to mean expensive, sometimes it just means keeping your property in peak performance mode.
Make it a priority to keep your signs clean and in good repair. That includes pruning back overgrown trees or shrubs, removing debris and trash that gathers around sign bases, and staying on top of maintenance—think replacing the burned out bulb, warped letters, and chipped trim immediately.
6. Use Design Elements to Your Advantage
Designing attractive, distinctive signs that differentiate your business from your neighbors' is essential if you want to draw in new traffic. When all the other signs on the block are beige monuments, consider adding a stunning gray base that stands out from the crowd. Naturally, brand compliance may dictate your overall color scheme, but don't let that discourage you from capitalizing on design elements. Talk to your custom business sign representative about exploring subtle nuances that will make your business more attractive to consumers in your neighborhood.
Your business signage should be working around the clock, attracting new customers to your brand. Sadly, if your signs need renovating or updating, they aren't representing an establishment that values and appreciates its customers.
Consult With the Professionals
If your target audience isn't getting welcoming signals from your digital signs 24/7 because your letters are too small, fancy fonts are hard to read and illumination shines down from an external spot light, there's good news. LED illumination and professional sign design can solve all of these problems and many more.