For an established business seeking a brand upgrade, internal and external signage are key components in building a connection to customers. Your signage serves as the first impression on potential clients. So, working with a top sign designer and selecting high-quality materials helps you grow your brand recognition. Learn more about different sign types and the materials used to solidify your rebranding strategy.
Types of Sign Graphics for a Brand Upgrade
Your sign rebrand starts with selecting the type of sign that best reflects your messaging. Be sure to consult with local signage experts to ensure that you understand any restrictions imposed by local zoning laws or other regulations. Also, if you rent business space, the building owner may have restrictions on the signage you can display.
Here are 8 sign types we recommend for drawing traffic to your business. You can either create a brand new sign or update an existing one.
1. LED Face Illuminated Signs
Primarily used for exterior signs, LED face illuminations are also used for interior signage. For a bold impact, place your redesigned sign graphics in bold lettering on the outside of the building. These signs consist of three-dimensional channel letters most often made of acrylic, aluminum, or LED lighting.
2. LED Halo Illuminated Signs
For a unique sign that directs light behind the letter, you can obtain a halo effect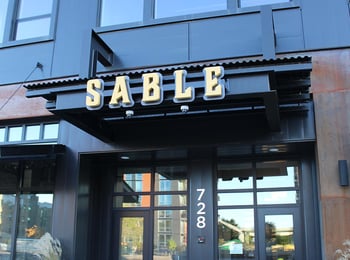 that draws in the eye day and night. The reverse channel letters from LED halo illuminated signs come in a variety of materials, most commonly metals such as aluminum or stainless steel.
3. Interior Logo Displays
If you want to make an immediate impression on customers and guests, consider an interior logo sign rebrand for your lobby, conference rooms, and other important interior spaces. This is crucial if you plan to launch a new logo or upgrade your existing signage to better reflect the color and style of your brand. Three-dimensional logos create an immediate focal point that viewers remember.
4. Wall-Mounted Cabinets & Plaques
Made rectangular or another shape, wall-mounted cabinet signs house lights and lend stability to simple signage. They aren't always lit up, but they allow you to quickly add a sign rebrand to the building exterior without a complicated build.
5. Directional and Wayfinding Signs
Directional and wayfinding sign types create visual cues that direct traffic to your front door. These signs can be found in hospitals, schools, and universities, where they lead visitors to the appropriate parking areas and point the way to your business. Wayfinding signs also point the way to exits, restrooms, and redesigned retail areas.
6. Pylon Signs
Pylon sign types are typically placed high enough to draw the attention of road traffic. These freestanding signs often sit atop a pole or pylon and market your business in high traffic areas. Put these landmarks to work for your business immediately after a brand redo.
7. Monument Signs
Compared to pylon signs, monument signs are lower to the ground. There's an unlimited variety of colors, styles, and effects possible with monument signs, and they give you complete control over your messaging at affordable rates. Churches, schools, and small businesses commonly use this type of exterior signage.
8. Message Centers
If you need to disseminate information about upcoming events or special offers, consider using a message center sign. Electronic message centers let you change the text and image without replacing letters and other parts.
Types of Sign Materials
When you rebrand your sign graphics or text, account for both interior and exterior signage. There's a greater range of material available in controlled interior environments. Glass, steel, wood, acrylic, aluminum, and foam all do well indoors, for example.
In Minnesota, the annual temperature ranges from -20 to 100 degrees. There's also a fair amount of wind, rain, and snow. We can help you choose durable materials that fight through all weather conditions such as aluminum and steel. Aluminum is the most widely used sign material because of its durability and resistance to rust. Steel is often found in exterior signage, so pylon and monument signs are typically made of steel.
Contact Spectrum Sign Systems today to learn more about choosing sign graphics and materials for your next rebrand. It is our pleasure to serve businesses in the St. Paul-Minneapolis area and throughout Minnesota.