LED technology opens the doors wide when it comes to designing diverse outdoor signs that draw attention to your business. Use LED outdoor signs to create diverse signage that contains your logos, business name, and brand messaging.
There are many reasons why we recommend LED-powered business signs. Check out our LED face signs and halo-illuminated LED signs for inspiration and learn more benefits of this unique signage type.
1. Eye-Pleasing Aesthetics
LED business signs can incorporate movement and unique aesthetics. You may choose a flat vinyl sign to identify your business or you could amp up the wattage and turn heads with a full and bright LED outdoor sign. LEDs flash colors when appropriate to guarantee more eyes take in your business information.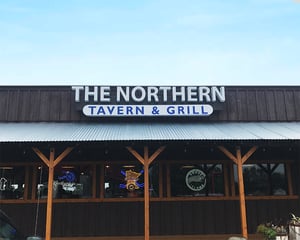 2. Flexibility
With LED outdoor signs, you can adjust the lighting for different seasons or during special events. Create a professional, one-of-a-kind vibe that enhances your branding.
3. Energy Efficiency
These days, environmentally-friendly products are growing in popularity and traditional light bulbs take an enormous amount of energy that can run up your monthly utility bill. With LEDs, you only need 25% of the power to achieve the same high-quality glow. LED outdoor signs have other benefits that make them more sustainable than neon and other bulb types. They emit fewer toxins and last longer, making maintenance a breeze. So, you end up saving more despite the initial higher cost. Your initial investment comes up in the form of lower electricity and maintenance costs.
4. Produce a Halo Effect
You can use LED business signs to create floating lettering. With a specialized sign manufacturer like Spectrum Signs, the letters can be installed with spacers to look as if they float off the surface of the building.The light then is directed inward and shines off the building, producing a breathtaking halo effect. The interior lights of the letters are also LEDs for even brightness and a crisp, clean look.
5. Choose the Color You Love
Most LED bulbs are white. However, they come in different colors, allowing you to choose the hue that matches your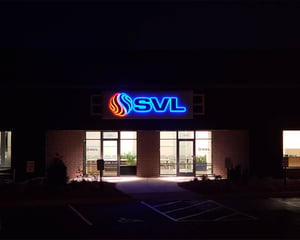 branding the best. Visual communication is key to wayfinding and brand building in your signage strategy.
6. Make Your Business Memorable
Commercials, online ads, and traditional media fade from memory. LED outdoor signs give you an edge over your competitors. Light up your sign as soon as the sun goes down to help people remember your business. Brand recognition is a leading factor when consumers are looking for products and services. With the right business signs, you can sear your brand into their memory and boost foot traffic to your business.
With so much at stake and so many options, it's important to choose a company with an excellent reputation to design, install, and maintain your LED outdoor signs. The experts at Spectrum Sign Systems have produced business signs in the Greater St. Paul, MN area for a combined total of 60 years. The team works closely with property and facility managers, developers, retailers, medical institutions, and many other organizations looking for extraordinary signage. Contact the Spectrum Signs team today!