There are a number of custom sign projects that stand out when looking back to last year for Spectrum Signs. We completed large projects, small projects and everything in between. In this article we will be highlighting a couple different projects that we completed this year. From interior logo displays to full sign packages, here are a few of the projects that stood out to us for different reasons.
M1 Volleyball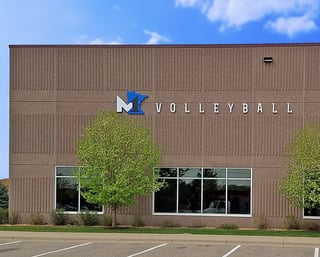 M1 Volleyball is a training facility located in Bloomington, MN. At this location, we fabricated and installed a non-illuminated reverse channel aluminum letter set on the front of their complex. This type of letter set is a pretty standard installation for us, but what really stood out on this custom sign project is the logo. The metallic silver letters and the color of blue used for the state of Minnesota logo really stand out well on the building background. Signs like this make it easy for potential customers to see and recongnize the branding when in passing.
Twisted Noodle
Twisted Noodle is an eatery located within the buffet at Grand Casino Hinckley. This one sign is part of a full interior sign package at the casino. We fabricated and installed everything from non-illuminated letters to LED face illuminated logos at all the different establishments. This particular letter set is LED halo illuminated and is attached to the fascia above the preparation area. The LED illumination really stands off the background and contrasts well with the letters. This letter set absolutely stands out in a room full of competing signs.
Guardian Angels
Guardian Angels had a previous monument sign which included bells above the sign. The bells are a small scale representation of the larger bells which are located on the church. Part of the charm of this custom sign project was taking the bells from the old sign, having them polished and reused on this new sign. This monument sign also features a full color Daktronics message display. The church uses this to list events times and custom messages to the surrounding community.
Northfield Hospitals + Clinics
Northfield Hospitals + Clinics opened a new clinic in Faribault, MN. The building in which they are located had an old non-illuminated monument sign, that displayed the four tenants in the building. But, with the clinic being located on a high traffic road, the customer wanted a sign that would increase the visibility for all the tenants during the day and night. This custom pylon sign does just that. We made the sign as tall as the city code would grant and maximized the square footage allowed. We also fabricated and installed an illuminated wall mount sign and interior logo display for the clinic. Signs like this are what we strive for on every job, to make the customer's name as eye-catching as possible.
This is only a fraction of the projects we completed last year. 2017 was a successful in all phases and couldn't have been possible without our customers. We'd like to thank each and every one of you for your business and for including Spectrum Sign Systems in your projects. If you'd like to be featured in next year's list, let's get started right now! Contact us today with your custom sign project!